Israeli Cabinet to vote on releasing Palestinian prisoners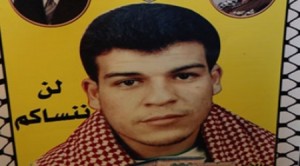 In April 1993, Omar Masoud and three accomplices broke into a European aid office in Gaza City, grabbed a young Israeli lawyer working there and stabbed him to death.
Israel arrested Masoud a month later and sentenced him to life, meaning he was doomed to die in prison one day for killing the lawyer in the name of the Popular Front for the Liberation of Palestine, a small PLO faction.
Now Masoud ( pictured) , along with dozens of other long-term Palestinian prisoners, is up for release as part of U.S. Secretary of State John Kerry's attempt to restart Israeli-Palestinian talks after five years of diplomatic paralysis.
Israel's Cabinet is being asked to approve a prisoner release in principle on Sunday, as part of a Kerry-brokered deal to get the two sides back to the table.
The Cabinet vote would pave the way for a preliminary meeting of Israeli and Palestinian negotiators in Washington on Tuesday, followed by up to nine months of talks in the region on setting up a Palestinian state alongside Israel. Such a deal has eluded Israelis and Palestinians for two decades and they have low expectations.
The fate of those held in Israeli jails is an emotionally wrought issue for Palestinians, who view the prisoners as heroes who made personal sacrifices in the struggle for statehood. A prisoner release — particularly of lifers with "blood their hands" — would go a long way toward giving Palestinian President Mahmoud Abbas a popular mandate to give talks another shot, even if many Palestinians believe Israel's hardline prime minister, Benjamin Netanyahu, is not serious about a deal.
Israelis tend to view the prisoners as cold-blooded terrorists, and early releases of security prisoners in previous swaps elicited vociferous objections from the public, including Supreme Court appeals.
For Israel's government, approving the release of prisoners it refused to free in the past — even if in stages and linked to progress in talks — poses the most difficult test so far of its professed willingness to reach a peace deal.
Abbas, meanwhile, briefed reporters on the terms of the upcoming negotiations, based on what he said were Kerry's assurances to him. He said the American invitation would state that the talks will be about establishing a Palestinian state next to Israel, based on the 1967 borders and with mutually agreed upon land swaps.
The Palestinians want to set up a state in the West Bank, Gaza and east Jerusalem — lands Israel captured in 1967. In previous negotiations, Abbas offered to trade 1.9 percent of West Bank land for the same amount of Israeli territory, a swap that would enable Israel to keep some of the dozens of Jewish settlements it has built since 1967.
Israeli officials have declined comment on the negotiations. Netanyahu refused in the past to accept the 1967 lines as a starting point, and it's not clear whether his position has changed.
Abbas said the situation would become clearer after Sunday's Cabinet meeting.
A senior Palestinian official said the Palestinians would go to talks without Israel having agreed to a freeze of settlement building in the West Bank and east Jerusalem. Nearly 600,000 Jews already live there, and thousands of homes are under construction.
In guidelines for the talks requested by the Palestinians, Kerry stipulated earlier this month that both sides have to refrain from unilateral steps, according to the Palestinian official, who spoke on condition of anonymity because of a gag order the U.S. secretary of state slapped on the negotiators.
The Palestinians understand this to mean that Israel will slow down settlement construction and refrain from provocative steps, such as announcing new projects, the official said. The Palestinians, in turn, will suspend plans to seek further recognition at the U.N. General Assembly, which last year recognized a state of Palestine in the 1967 borders. Israel fears further international isolation as a result of Palestinian activity at the U.N.
Abbas has argued he would need either a settlement freeze or Israeli recognition of the 1967 lines as a baseline to be able to resume negotiations.
In Sunday's Cabinet meeting, ministers will be asked to vote on a number of fateful issues, an official in Netanyahu's office said, speaking on condition of anonymity in line with briefing regulations.
The ministers will be asked to authorize the resumption of talks with the Palestinians and appoint a team — reportedly the premier and three ministers — to oversee the negotiations.
They will be asked to approve an amended bill that would require a national referendum on any partition deal with the Palestinians.
Netanyahu's decision to fast-track the referendum bill has prompted contradictory speculation. Some say this shows the lifelong hawk is serious about a deal this time and wants to silence opposition by ultra-nationalists in his Likud party and his coalition from the outset. Others suspect he is trying to create new obstacles to any agreement.
The Cabinet ministers would also have to approve, in principle, a release of Palestinian prisoners who were arrested before the start of the so-called Oslo talks on interim peace deals in the early 1990s.
Abbas gave Kerry a list of 104 names, including that of Omar Masoud who is No. 77, ranked by seniority. The two longest-held at the top of the list are cousins Karim and Maher Younis, imprisoned since 1983 for kidnapping and killing an Israeli soldier, Palestinian officials said.
When Israeli media reported last week that Israel would only release 82 and that Palestinians from Israel and east Jerusalem would not be freed, Abbas asked Kerry for clarifications.
The U.S. diplomat gave Abbas to understand that all 104 would be freed, said a Palestinian official, also speaking anonymously to avoid violating Kerry's call for discretion. The prisoners are to be released in four stages over six months, beginning a month after the resumption of talks, the official said.
As of late June, nearly 5,000 Palestinians were being held by Israel.
Masoud's mother, 70-year-old Tamam, said she is optimistic.
"I hope everything will work out between Jews and Arabs," she said, speaking in her shack in the Shati refugee camp. Abbas "took a good step by talking about releasing prisoners," she said.
Omar Masoud's family was evasive when asked about the killing, portraying it as the rash act of an immature youth. A recent prison photo of him showed a balding middle-aged man who his mother says often cooks for other prisoners because of his work experience as a teenager in an Israeli restaurant.
Despite considerable opposition in Israel to prisoner releases, polls indicate a majority support a resumption of peace talks. Yuval Diskin, former head of Israel's domestic security agency Shin Bet, expressed that ambivalence.
He noted that he opposed a 2011 swap in which Israel agreed to free some 1,000 Palestinians for an Israeli soldier held by Gaza militants, but that the upcoming round of talks may be the last chance for a deal.
"We need to understand that the negotiations cart is stuck in very, very deep mud," he told Israel TV's Channel 10 on Friday. "And there are some very painful things that will need to happen in order to get that cart out of the mud."
Fox/AP