Gemayel: EU punished ghosts concealed within Hezbollah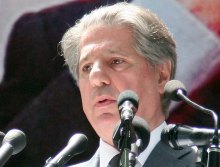 Former Lebanese president and Phalange party leader Amin Gemayel on Saturday warned that the European Union decision to blacklist Hezbollah's military wing could have dangerous consequences for Lebanon because of the ambiguous nature of the decision.
The EU decision "punishes ghosts because the military wing of Hezbollah conducting operations is concealed within the organization and cannot be pinpointed ." He told the Voice of Lebanon (100.5) radio
Hezbollah international relations official Ammar Moussawi admitted on Thursday that Hezbollah's political and military wings are one and the same.
Following his talks with EU Ambassador to Lebanon Angelina Eichhorst he said :
"Everyone knows that Hezbollah's political and military wings are one and the same".
Moussawi was confirming what was first pointed out by Chairman of the Israeli parliament's Foreign Affairs and Defense Committee, MK Avigdor Lieberman who slammed on Monday the EU's decision to include only the military wing of Hezbollah on it's list of terrorist organizations, saying:
"The military wing and the political wing of Hezbollah are two sides of the same coin. At the head of each stands Sheikh Hassan Nasrallah. The attempt to present the group as if it is partially extremist and partially moderate is like asking can a cannibal be a vegetarian.Lieberman added: "As usual the Europeans only went half-way, and making a partial decision is insufficient. "
Gemayel stressed that the Lebanese state is the victim and cannot object to the EU decision on Hezbollah.
"The Lebanese state is a victim and it has to abide by the EU decision because any objection to an international resolution is suicidal," he said.
Gemayel added: "When the Italian ambassador [Giuseppe Morabito] visited me a few days before the decision was made, he asked my opinion regarding [the decision], and I told him that what they [the EU countries] were [about to] do will cause great confusion in the Lebanese arena and will have a negative effect on developments, especially the cabinet formation."
The European Union decided on Monday to blacklist Hezbollah's military wing as a terror group.
The party's armed wing was blamed for a deadly attack on Israeli tourists in Bulgaria in July 2012, while in March, a Hezbollah operative was also convicted in Cyprus of plotting a similar attack.
Gemayel called on Hezbollah to reconsider its policies in Lebanon, which is in everyone's best interest, to avoid stepping into vacuum.
Gemayel held the cabinet responsible for allowing Hezbollah to "go too far" with its behavior that further involved Lebanon in crises it can't handle.
"Hezbollah has no right to monopolize decisions that affect the Lebanese interests," Gemayel said and added :"Hezbollah must act responsibly and not always blame Israel for everything."
Gemayel called on Hezbollah to abide by the Baabda declaration in order to end vacuum in public institutions.