Dozens killed in Egypt clashes as violence escalates
At least 38 people were killed and 500 injured in early morning fighting between police and supporters of ousted President Mohammed Morsi, health officials said, as Egypt's political divisions edged toward outright internal conflict.
The Muslim Brotherhood, which Mr. Morsi used to lead, said more than 100 people were killed in the fighting. Most of the deaths were from gun shot wounds, the group said.
Regardless of the difference in reported death toll, the violence marks a dangerous escalation for an internecine conflict that has already badly damaged Egypt's emerging democracy and ruptured a society that had once prided itself on its cohesiveness.
The violence came hours after dueling protests brought Egyptian streets to a standstill as millions of Mr. Morsi's opponents staged a show of force against the ousted president and the tens of thousands of his supporters who have spent the past month camped out in Nasr City.
Saturday morning's violence seemed to realize the demands of Friday night's massive demonstrations. Most of the anti-Morsi protesters said they had filed into the streets to answer a call by army chief Gen. Abdel Fattah Al Sisi, who had asked Egyptians to protest Friday to give him a "mandate to confront terrorism"—a nebulous request widely thought to mean Mr. Morsi's mostly Islamist backers.
In a televised statement hours after the killings, Mohamed Ibrahim, Egypt's minister of interior, said the police intervened when pro-Morsi protesters moved from their weeks long tent city at Raba'a Al Adiwiya Square to block the nearby Sixth of October Bridge.
Mr. Ibrahim said Safwat Al Hegazy, a fiery Brotherhood-affiliated Muslim preacher who has been accused of inciting violence in the past, instigated the move.
"We were surprised when Safwat Al Hegazy asked protesters at the Raba'a stage to head to the 6th October bridge in order to occupy it," said Mr. Ibrahim. "He has been in Raba'a for about 29 days, nobody has approached or bothered him. But, the fact that he issued this call to gain ground is unacceptable."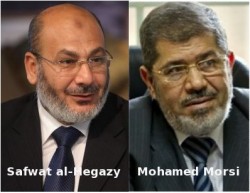 Mr. Ibrahim said he ordered the crackdown on the advice of Egypt's minister of housing, who phoned him to warn that the bridge, which is regularly loaded with heavy traffic, couldn't take the weight of the protesters.
"Our forces were then directed to the bridge to disperse those protesting there using tear gas," he said. "Then, some of the residents in the area in [Nasr city] came and also clashed with them. We tried to separate both parties, but the street scuffles continued."
Yet given Gen. Sisi's demand for protests, the shootings looked like a pretext to disperse the Raba'a sit-in. Prosecutors are sitting on dozens of unserved arrest warrants for Brotherhood leaders they accuse of inciting violence and attacking civilians. Many of those leaders remain camped out in Raba'a where they continue to deliver speeches against the military to Brotherhood loyalists. Police have apparently been reluctant to arrest them, presumably to avoid a conflagration.
In the news conference Saturday, Mr. Ibrahim said the warrants would be served once the accused people leave Raba'a square.
"We will arrest those who are wanted once they leave from Raba'a Al Adiwiya," he said. Mr. Morsi himself hasn't been seen since his ouster July 3. Prosecutors ramped up the charges against him on Friday, accusing him of murder and colluding with a foreign power.
Mr. Ibrahim said Saturday that Mr. Morsi, after weeks in military custody, would be transferred to Tora Prison where he will join deposed President Hosni Mubarak, members of his former regime and other jailed Brotherhood leaders.
Mr. Ibrahim denied reports that his police had used live ammunition to subdue the protesters. But in a statement Saturday morning, the Brotherhood said police snipers fired on the crowd from positions on top of the nearby Al Azhar University.
The Brotherhood said the "massacre" is part of a "policy of eradication exercised brutally by the leaders of the military coup" and pledged to continue their sit-in, according to its statement.
On Friday night, more violent clashes in the coastal city of Alexandria left at least seven people dead, according to Egyptian state media, which quoted the health ministry. Fighting between the camps have left dozens of people injured in several cities, it said.
Egyptian soldiers, many of whom could be seen holding portraits of Gen. Sisi, took up positions throughout Cairo and its suburbs.
Egyptian prosecutors on Friday accused Mr. Morsi of conspiring with the Palestinian militant group Hamas to escape jail during Egypt's revolution against then-President Mubarak in early 2011. The prosecutor's investigation could see Mr. Morsi face trial for murder and espionage in the service of a foreign group—a charge that would be akin to treason and could carry a maximum life sentence.
The push against Mr. Morsi and his supporters in the Muslim Brotherhood raises the stakes in a confrontation that has simmered, with occasional violence, since mass demonstrations against Mr. Morsi culminated in his July 3 ouster by the military.
Both sides in the protests hope to lay claim to street-level legitimacy—presenting dueling shows of force that illustrate that more than two years after protesters ousted Mr. Mubarak, Egypt's streets remain the principal source of political power.
In a speech Wednesday, Gen. Sisi, Egypt's minister of defense and the head of its armed forces, asked Egyptians to protest Friday in order to give him the mandate to deal with terrorists. On Friday evening, private satellite television channels canceled their normal Ramadan programming to encourage people to turn out to support the military.
It remained unclear what Gen. Sisi's mandate would entail, and who would qualify as a terrorist.
Even before Gen. Sisi's call, the Muslim Brotherhood had organized as many as 34 protests in Egypt's capital alone for Friday, with many more in rural governorates. These demonstrators join the thousands of Mr. Morsi's mostly Islamist backers in Nasr City, demanding the reinstatement of Egypt's first democratically elected president.
For the Morsi supporters at Nasr City's Raba'a al Adiwiya Square, Gen. Sisi's appeal sounded like a call for political cover that would allow security forces to forcefully disperse their sprawling sit-in.
"It's like he's going to make a massacre with an alibi of all the people on the street," said Nada Kamal Ragab, 30 years old, a pharmacy instructor who said she had kept a vigil in Raba'a for weeks. "He wants a justification so that when he kills the people, he can say he had support."
Maintaining the protests are crucial for the Brotherhood and their Islamist allies, who worry that without the rolling sit-in, they will lose what little remains of their once formidable political power. Brotherhood leaders have already refused to negotiate with the military or the interim civilian government it ushered into power.
"If they demobilize, they get nothing else," said Omar Ashour, an expert on Islamist movements and a senior lecturer in Middle East politics at the University of Exeter in the U.K. "Once they demobilize from the street, they will be at the mercy of the generals."
A few miles away from Nasr City in Tahrir Square, the focal point of the revolution that ousted Mr. Mubarak, protesters waved posters of Gen. Sisi and cheered as military helicopters swooped overhead, at times dropping Egyptian flags.
"We support Gen. Sisi and we want to support the Egyptians who live in peace," said Osama Higazi, 42 years old, who brought his wife and two daughters to Tahrir. "I'm signing a blank check for Gen. Sisi. Whatever he needs, let him put it on the paper."
"We support Gen. Sisi and we want to support the Egyptians who live in peace," said Osama Higazi, 42 years old, who brought his wife and two daughters to Tahrir. "I'm signing a blank check for Gen. Sisi. Whatever he needs, let him put it on the paper."
The general's appeal for public support before launching any move against the Brotherhood raises the danger that his plans could surpass legal limits, analysts said.
Egypt's media, military and interim civilian leadership have adopted antagonistic language toward Mr. Morsi's supporters, casually referring to them as terrorists, accusing them of having been infiltrated by foreign agents and in some cases demanding that they be "cleansed" from the public.
"Now it's the military's war," said Shadi Al Ghazali Harb, a leader in the anti-Morsi June 30 Coalition and one of the activists who helped oust Mr. Mubarak more than two years ago. "The military is going to go through with it and they are going to take it to the end."
Mr. Harb and other Morsi opponents said that Gen. Sisi needs public backing to confront a terrorist menace that has so far been unwilling to compromise. He said that Brotherhood leaders have used live ammunition in often-violent clashes with police and anti-Morsi protesters over the past several weeks, terrorizing neighborhoods where they remain camped out. Brotherhood leaders have called for protests to be peaceful and have said they can't control rogue individual members.
Prosecutors on Friday remanded Mr. Morsi, whom the military has detained incommunicado since his removal from power more than three weeks ago, to 15 days in custody pending an investigation on espionage and other serious allegations, each of which could carry its own tough sentence.
Mr. Morsi is also accused of the murder of prisoners and prison guards, escaping from prison, attacking state institutions, attacking police installations and jails and bringing arms into the prison where Mr. Morsi was incarcerated.
Mr. Morsi and other Brotherhood leaders have said in the past that they broke out of jail with the help of other prisoners, not Hamas operatives. Brotherhood lawyers didn't respond to requests for comment. Many are in prison with Mr. Morsi.
The accusations that Mr. Morsi conspired with Hamas dovetail with wider suspicions—repeatedly made in the media over the past several weeks—that the Brotherhood has enlisted Hamas operatives to strike at police and military targets in Egypt's Sinai Peninsula.
Brotherhood leaders characterized Friday's accusations as a nakedly political attempt to justify Gen. Sisi's military takeover three weeks ago.
"Announcing a decision to detain a legitimate president who has immunity, who should not stand trial except under specific constitutional procedures and under very suspicious timing and in the absence of the simplest concepts of the rule of law as well in the absence of his lawyer, shows the nature of the current struggling fascist military regime," said a message posted Friday to the official Facebook page of Essam el-Erian, the deputy head of the Brotherhood's Freedom and Justice Party.
Human-rights groups and some activists have cast doubt on the validity of the espionage charges, pointing to a paucity of evidence backing them up.
"That case was very slim on evidence," said Heba Morayef, a researcher for the New York-based advocacy group Human Rights Watch.
Mr. Ashour noted that at the time of the prison break, Mr. Morsi and dozens of other Brotherhood leaders had been recently arrested and were being held without charge. They were among thousands of prisoners who escaped from prison during the uprising against Mr. Mubarak in February 2011.
Official investigations into the massive prison break shortly afterward revealed that Ministry of Interior officials freed many of the prisoners themselves, in what analysts and activists have since called an effort to terrorize an Egyptian public then in the throes of revolt.
The growing bluster on both sides of Egypt's internal debate, particularly the military's calls to protest, have created an atmosphere of panic in which human-rights concerns could easily be cast aside, Ms. Morayef said.
"I'm worried about the discourse over the last few days that we've heard from the military and the lack of recognition of the need to use force in a legal and proportionate manner," she said.
With tension mounting, some Egyptian political leaders pleaded for calm.
"Nonviolence, rule of law and due process, and reconciliation based on inclusiveness are key principles to adhere to at this difficult time," read a message on the official Twitter account of Mohamed ElBaradei, Egypt's vice president and a leader in the anti-Morsi opposition movement.
WSJ