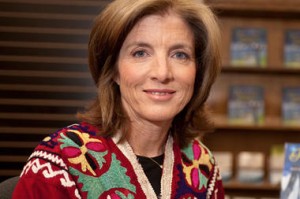 President Obama on Wednesday announced he would nominate Caroline Kennedy, a close friend and key political ally, as the next U.S. ambassador to Japan.
The daughter of President Kennedy, she is president of the John F. Kennedy Library Foundation. She has written and edited a series of books, most of them related to the Kennedy family and its legacy, but has never held a government post.
The ambassadorship is a major diplomatic assignment, and her appointment comes at an important moment. Japan is embroiled in conflict with China over control of disputed island chains and is struggling under a new government to restore the nation's stalled economic growth.
Douglas Paal, an Asia specialist at Carnegie Endowment for International Peace and a former U.S. official, said Japan "is entering a difficult period," making the post an important one.
Obama has described Kennedy, 55, as "one of my dearest friends." In early 2008, she was crucial to the success of his presidential campaign by throwing the Kennedy family support to his side, rather than Hillary Rodham Clinton's. Kennedy was co-chairman of his 2012 presidential campaign.
Obama announced her appointment, first rumored in February, with little fanfare, in a two-page announcement that included new posts for three other officials. He said in the statement that "these fine public servants bring a depth of experience and tremendous dedication to their new roles."
Kennedy's grandfather, Joseph P. Kennedy, was U.S. ambassador to Britain from 1938 to 1940.
The Japanese government formally approved Kennedy's selection this month. The ambassadorship to Tokyo has gone in the past to a series of distinguished American political figures, including former Vice President Walter Mondale, former House Speaker Tom Foley and former Senate Majority Leader Mike Mansfield.
The current ambassador is John Roos, a former Silicon Valley lawyer and political fundraiser.
When Clinton was named secretary of State in early 2009, Kennedy appeared to a front-runner among those who might be named to fill the remainder of her term in the Senate.
But Kennedy, a very private person uncomfortable with media attention, abruptly withdrew her name from the running in late January that year, citing "personal reasons."
Kennedy, if confirmed by the Senate, will be the first woman to hold the post. Some advocates have argued that the move may help the cause of women in male-dominated Japan.
LA Times