Future bloc ready for dialogue after cabinet formation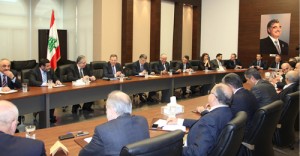 Former Prime Minister and Future parliamentary bloc leader MP Fouad Siniora announced Tuesday that his bloc is ready and willing to attend the National Dialogue that president Michel Suleiman has called for but only after the  Cabinet is formed .
Siniora made the announcement shortly after chairing the weekly meeting of his bloc which welcomed President Suleiman's call for National Dialogue to discuss the divisive issue of Hezbollah's arms, but stressed that the formation of a new Cabinet should be given top priority.
Siniora headed a Future bloc delegation to the Saudi Arabian city of Jeddah where they held talks with former Prime Minister and Future Movement leader MP Saad Hariri. The talks focused on difficulties facing premier-designate Tammam Salam in his attempts to form a new Cabinet and calls for dialogue between March 8 and March 14 leaders aimed at defusing the political and sectarian tensions which have been fueled by the civil war in Syria.
In addition to Siniora the delegation included MPs Ahmed Fatfat and Nohad al-Mashnouq, according to National News Agency.
Siniora stressed that Hariri also supports dialogue talks after the Cabinet formation.
Siniora briefed the bloc members on the talks held with Hariri as well as his meeting Tuesday with President Suleiman before the latter left on a private visit to the United States.
Siniora visited Salam after the bloc meeting to brief him on the Jeddah trip.
Referring to previous dialogue sessions, the Future bloc stressed in a statement the importance of implementing and abiding by decisions taken in the past, particularly the "Baabda Declaration."
The declaration, agreed by March 8 and March 14 leaders during a National Dialogue session in Baabda in June last year, called for distancing Lebanon from regional and international conflicts, particularly the conflict in Syria.
March 14 parties have accused Hezbollah of violating the declaration with its heavy involvement in Syria, where party fighters have joined forces loyal to President Bashar Assad in the battle against armed rebels seeking to topple the regime.
The bloc urged Hezbollah to abide by the "Baabda Declaration." It reiterated its call on Hezbollah to withdraw all its fighters from Syria, hand over the four party members implicated in the 2005 assassination of former Prime Minister Rafik Hariri to the U.N.-backed Special Tribunal for Lebanon, and "halt all external security and military activities and involvements."
The bloc's statement appeared to strongly support Salam as the prime minister for now despite Speaker Nabih Berri's call on Hariri to return to Lebanon to head the new cabinet.
Hariri, who has been living out of Lebanon for more than two years for security reasons did not comment on Berri's call to return to Lebanon and nominate himself to the premiership.
The bloc dismissed Berri's call for Hariri to nominate himself as a new prime minister as "a maneuver," and reiterated its support for Salam.
MP Fatfat told MTV: "Hariri is the only one who decides when to head the Cabinet."