Bombs targeting Iraq Sunni mosques kill 16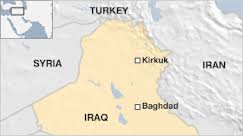 Sixteen people were killed and 75 wounded late Tuesday in separate bomb attacks, mainly targeting Sunni mosques, in northern and central Iraq, the police said.
In the northern city of Kirkuk, a roadside bomb and a sticky bomb attached to a car went off simultaneously in front of Omer Abdul-Aziz Sunni mosque in the city's southern part, killing seven people and wounding 30 others, a local police source told Xinhua on condition of anonymity.
The double bomb attacks occurred as worshippers were leaving the mosque after the night prayer, the source said.
In the Iraqi capital of Baghdad, three worshippers were killed and 15 wounded in a car bomb explosion outside Omer al-Mukhtar Sunni mosque in Doura district, an Interior Ministry source anonymously told Xinhua.
In a separate incident, three homemade bombs detonated at a restaurant in the same Doura district, killing six people and wounding 28, the source said.
Elsewhere, a roadside bomb went off after the night prayer outside a Sunni mosque in the city of Kut, some 170 km southeast of Baghdad, wounding two policemen and a civilian, a local police source said.
Earlier, the police said that nine people were killed and seven others wounded in other forms of violent attacks across Iraq in the day.
Iraq is witnessing the worst eruption of violence in five years, raising fears that the latest bloodshed is sliding the country back toward a full-blown civil conflict that peaked in 2006 and 2007, when the monthly death toll sometimes exceeded 3,000.
Xinhua