Kerry Heads To West Bank In Peace Talks Push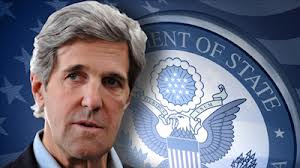 US Secretary of State John Kerry is flying to the West Bank in an attempt to salvage his Middle East bid.
He will meet Palestinian President Mahmoud Abbas as part of an attempt to get peace talks back on track.
A Palestinian official announced the surprise move after Mr Kerry met twice with Palestinian chief negotiator Saeb Erakat on Friday morning in his Amman hotel.
A senior US State Department official confirmed the report saying: "Secretary Kerry will travel to Ramallah this afternoon to meet with President Abbas."
The whirlwind diplomacy came after the Palestinian leadership in Ramallah rejected Mr Kerry's proposals for a framework to guide the relaunch of peace talks with the Israelis, which have stalled for nearly three years.
Sky News