2 injured in an explosion that targeted Hezbollah convoy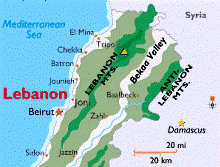 A bomb attack targeting a Hezbollah convoy in Majdel Anjar area, near the Masnaa border crossing between Lebanon and Syria resulted in an explosion that injured 2 people according to media reports.
The convoy included , 2 vehicles according to Al Jazeera; a GMC SUV and a Chevrolet SUV. The GMC was hit in the blast and 2 of its passengers were injured.
This is a developing story …more to follow
Update
Lebanon's state National News Agency identified the two wounded men as Hussein Ali Deir and Fadi Abdel Karim, adding that they were rushed immediately to a local hospital.
A roadside bomb was used in the attack according to the report
The NNA also reported that one of the targeted vehicle ( GMC SUV) had the wrong license plate . Its tag number 259431/B is registered for another vehicle which was identified as a white Peugeot.
Voice of Lebanon (93.3) radio confirmed that the SUV with the wrong tags was part of the Hezbollah convoy.
LBC television said that Lebanese Armed Forces troops cordoned off the site of the blast, adding that the IED was detonated remotely.
Tuesday's attack is the latest in a string of bombings that have targeted Hezbollah in the Beqaa vally near the border with Syria according to NOW. On July 7, twin roadside bombs, detonated minutes apart, wounded a woman and two soldiers in Hermel, while on June 28 two blasts targeted a Hezbollah convoy comprised of three SUVs on the highway near Zahleh. Also, on June 10 a roadside van exploded near a van and BMW on the Taanayel road in the Beqaa.
Update 2: Al-Arabiya reported that the Majdal Anjar blast targeted a Hezbollah official . The 2 people that were injured were his bodyguards
Update 3 : According to Reuters 3 Hezbollah Security officials were injured in the attack and not 2 as originally reported by Al Jazeera.
Three or four gunmen arrived in another car and started firing at the GMC. "Then they got back in their car and fled," a truck driver who witnessed the attack told Reuters .
Other witnesses reported that armed men were seen getting out of the Hezbollah convoy following the incident
It was not immediately clear who was behind the attack, but Syrian rebel groups have threatened to strike Hezbollah in Lebanon following the group's military intervention in Syria on the side of President Bashar al-Assad.
The attack comes a week after a car bomb injured more than 50 people in a southern Beirut suburb controlled by Hezbollah. In late May, rockets were fired at a Hezbollah area of southern Beirut.
Update 4:MTV reported that Lebanese Internal Security forces confirmed that a Hezbollah official was targeted in the bombing , but did not name him.
The bomb reportedly weighed one kg of TNT