Jumblatt urges concessions to expedite cabinet formation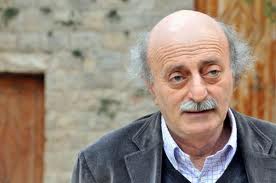 Progressive Socialist Party (PSP) leader MP Walid Jumblatt called on the country's political leaders to make concessions in order to expedite the formation of a new cabinet.
"Can we not, as Lebanese, make a few concessions in order to form a national interest government?" Jumblatt said in remarks published in PSP's Al-Anbaa newspaper on Monday.
He also criticized the request made by the Hezbollah backed March 8 alliance for veto power in the new cabinet.
However, Al-Joumhouria newspaper reported earlier on Monday that Speaker Nabih Berri claimed that the March 8 coalition has dropped its demand for veto power inside the cabinet. Berri's claim was immediately contradicted by Hezbollah's parliament bloc leader Mohammad Raad , who threw another monkey wrench into the cabinet formation process when he demanded on Monday that his party insists on its right to representation inside the upcoming cabinet based on its size inside the parliament. "What we are calling for is our right. We want to be represented inside the cabinet proportionally to our size inside the parliament," Raad said during an Iftar dinner on Sunday.
Lebanese Forces leader Samir Geagea expressed concern over a Hezbollah presence in the cabinet, because of its role in the Syrian role. Geagea warned on Monday that if any Hezbollah member was handed a portfolio in the newly-formed cabinet then it will give the impression that "the government accepts or is covering up for its participation in Syria."
On the other hand Geagea also said that his March 14 coalition is willing to stay out of the government if this will facilitate forming a government without Hezbollah.
Jumblatt stressed in his column that excluding any faction from the cabinet has proven fruitless.
"Excluding any power from cabinet is useless," he said in reference to calls for excluding Hezbollah
On the other hand , Jumblatt in his al-Anbaa column also criticized Hezbollah on the seventh anniversary of July 2006 war: "On this occasion, one can only look with great sorrow as the resistance's exceptional perseverance against Israel has been wasted in al-Qusayr and the alleys of Homs." This in reference to Hezbollah's support to the Syrian regime of president Bashar al Assad in regaining control of areas previously controlled by the Syrian rebels.
Syria has been gripped by a deadly uprising against the Assad regime since March 2011. Over 100,000 people have been killed in the civil war according to the Syrian Observatory for Human Rights watchdog.
Lebanon is still without a functioning government . Prime Minister-designate Tammam Salam has been trying to form a cabinet following the collapse of PM Najib Mikati's government, who is currently leading a caretaker cabinet . The premier-designate is trying to form a national unity government of 24 ministers with equal share to the 3 political blocs , March 14 , March 8, and the centrists.