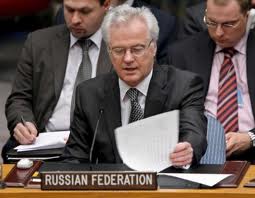 Russia's U.N. envoy on Thursday sharply criticized what he described as Western nations' "small propaganda storm in a glass of water" regarding allegations that the Syrian government has used chemical weapons against its own people.
Ambassador Vitaly Churkin on Tuesday presented U.N. Secretary-General Ban Ki-moon a Russian analysis that Churkin said showed how a projectile containing sarin that hit Khan al-Assal in the northern Aleppo province on March 19, killing 26 civilians and military personnel, was fired by rebels.
That report came after Syria allowed Russian experts to visit the site and take environmental samples for analysis. Russia, along with Iran, is Syrian President Bashar al-Assad's closest ally and chief arms supplier.
The United States, France and Britain, which have informed Ban about at least nine more alleged chemical weapons attacks by the government, cast doubt on the Russian analysis and repeated their previous calls for a U.N. chemical investigation team to have unfettered access in Syria, not just Khan al-Assal.
Churkin suggested that the three Western nations were making accusations that are not worth taking seriously.
"We need to be looking to credible allegations," he told reporters, adding that the insistence on looking into other incidents besides Khan al-Assal was a "small propaganda storm in a glass of water."
"Unfortunately I think what our Western colleagues have been doing is trying to produce the maximum number of allegations with the minimum of credibility in an effort … to create maximum problems for arranging such an investigation," he said.
Syria has refused to allow the U.N. chemical investigation to visit anywhere but Khan al-Assal. Ban has insisted that the team, which is led by Ake Sellstrom of Sweden, be permitted to visit at least one other location, the city of Homs, site of an alleged chemical attack by the government in December 2012.
U.S. Ambassador Rosemary DiCarlo told reporters that the investigation should not be limited to Aleppo's Khan al-Assal.
"We have called for the investigation – as the secretary-general has by the way – to include any and all credible allegations," she said.
Assad's government and the rebels deny using chemical weapons but have accused each other of repeatedly deploying them. The country's two-year civil war has killed as many as 100,000 people, according to U.N. figures.
DRAFT RESOLUTION DISPUTE
British Ambassador Mark Lyall Grant said on Wednesday it was "nice that the Syrian regime has given access to Russian experts to collect samples of alleged chemical weapons use."
"But it is considerably more important that they give access to independent and credible U.N. investigators who are not directly involved in the conflict and who can be expected to produce a more impartial and credible report," he said.
The access dispute has kept Sellstrom's team out of Syria.
Churkin also criticized a statement by U.S. State Department spokeswoman Jen Psaki on Wednesday, who said Russia was blocking U.N. Security Council efforts to push for "an independent and credible investigation" of chemical attacks in Syria.
Churkin said Russia was working hard to bring about a proper U.N. probe, which he said was demonstrated by the fact that Sellstrom and U.N. disarmament chief Angela Kane have been invited by the Syrian government to Damascus to discuss their investigation. Sellstrom and Kane have accepted the invitation.
Churkin also accused Britain of leaking "confidential" information to reporters about a draft resolution proposed by London and based on a statement Moscow supported at last month's Group of Eight (G8) developed nations' summit in Belfast.
The G8 statement urged all parties to the conflict to grant access to the U.N. team "in order to conduct an objective investigation into reports of the use of chemical weapons." It also called for the investigators to "make their report and deliver it to the U.N. Security Council for their assessment."
Several Western diplomats on the 15-nation Security Council said Russia was blocking the draft resolution. Churkin confirmed that Moscow opposed it but said China had also rejected it.
"We thought that it was completely unreasonable and contrary to the G8 declaration," he said about the British draft resolution, noting that "you know how our British friends are – they even drive on the wrong side of the road."
Reuters