10 injured in Chinatown New York explosion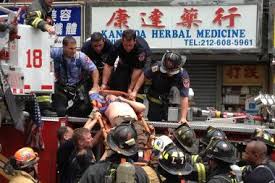 At least 10 people were injured, including four firefighters, after an explosion started a fire in an apartment building in New York City's Chinatown on Thursday afternoon, officials said.
The extent of the injuries was not yet clear, and local media reported different casualty numbers.
At least two victims were transported to a burn unit at a local hospital, according to a fire spokesman.
The firefighters' injuries were described as minor.
Officials said they didn't yet know the cause of the fire. A New York Fire Department spokesman told the Los Angeles Times that building's natural gas was turned off once authorities arrived at the scene.
A hair salon occupied the front of the building, and fire department spokesman Tommy Schwaber told The Times that an apartment in the back of the building suffered a partial collapse.
LA times