U.N. calls on Lebanon's Hezbollah to end involvement in Syria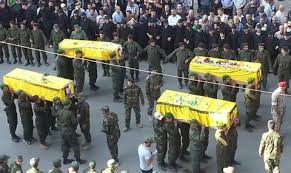 The U.N. Security Council called on Lebanese Hezbollah militants on Wednesday to end any involvement in the conflict in neighboring Syria, while Lebanon's U.N. envoy pledged that his country would keep its borders open to Syrians fleeing the violence.
Hezbollah has sent thousands of fighters to help Syrian President Bashar al-Assad's forces combat rebels, according to Israeli and Western estimates. Israel is now boosting its forces on the Syrian border, where it believes Hezbollah is preparing for the day when it could fight Israel.
"The Security Council calls upon all Lebanese parties to recommit to Lebanon's policy of disassociation, to stand united behind President Michel Sleiman in this regard and to step back from any involvement in the Syrian crisis," the U.N. body said.
The statement did not explicitly name Hezbollah due to objections from Russia, council diplomats said. But they added that it was clear Hezbollah was the intended target of the council declaration.
The 15-member council also expressed grave concern at the influx of almost 600,000 refugees into Lebanon during the conflict, which started more than two years ago as mainly peaceful protests against Assad, but descended into a civil war.
The United Nations says as many as 100,000 people have been killed in Syria and four million have been internally displaced, while nearly two million have fled to neighboring countries.
"The Security Council underlines the need for assistance on an unprecedented scale, both to meet the needs of the refugees and of host communities, and to assist the Lebanese authorities who face extraordinary financial and structural challenges as a result of the refugee influx," it said in the statement.
Lebanon's U.N. ambassador, Nawaf Salam, told reporters that the real number of Syrian refugees in his country was likely to be more than one million because not all of those fleeing had registered with U.N. agencies.
"Lebanon will not close its borders. Lebanon will not turn back any refugees. Lebanon will continue to provide assistance to all Syrian refugees," he said. "But let's be clear, Lebanon cannot cope with the burden of the refugee crisis. Lebanon needs international support."
Reuters
Photo: Funeral of Hezbollah fighters that were killed in Syria while helping Syrian President Bashar al-Assad's forces combat the rebels