13 Hezbollah members killed in Bir-al Abed bomb , Watan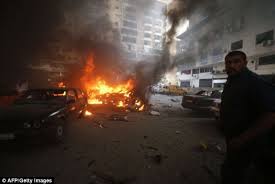 Saudi Arabian newspaper Al Watan quoted Syrian rebels as claiming that 13 Hezbollah members were killed and another 30 were injured Tuesday when a car bomb exploded in a parking lot at a commercial and residential neighborhood of Bir al-Abed area of Beirut's Dahiyeh suburb, a stronghold of the Hezbollah militant group. The power of the explosion shattered windows and damaged several cars and buildings in the area.
Hezbollah reportedly cordoned off the area after the explosion took place and refused to allow into the scene of the incident any reporters.
Health Minister Ali Hassan Khalil who represents the Amal Movement in the cabinet announced that 53 people were wounded , none of them were in critical condition and no one was killed .
Amal movement is headed by Speaker Nabih Berri, a key ally of he Syrian regime and Hezbollah
A little known Syrian rebel group called a Liwa'a 313 Brigade, a faction of the Free Syrian Army (FSA), claimed responsibility for the bomb attack.
In a statement in Arabic on Facebook Tuesday, the group lashed out at the Lebanese state, which it said actively assists Hezbollah. It claimed the bombing was a response to Hezbollah participation in the Syrian regime's ongoing offensive against the city of Homs – a strategically important position and a hub of rebel activity.
"We warned again and again against [Hezbollah's] intervention in Syria," the Liwa'a brigade added.
The rebel group also claimed it was behind an attack on a Hezbollah convoy in eastern Lebanon on June 28.
However the mainstream Free Syrian Army condemned the attack in Beirut's mainly-Shiite southern suburb, describing it as a "terrorist" act.
Hezbollah has openly joined the fight in Syria, and the group's fighters were instrumental in a recent regime victory when government forces regained control of the strategic town of Qusair near the Lebanese border.
Lebanese President Michel Suleiman urged the Lebanese to refrain from interfering in the Syrian crisis.
"It is important to stop interfering in the Syrian crisis, since Lebanon has no interest in doing so," Suleiman was quoted on Wednesday by National News Agency as saying .
"Lebanon should not be sacrificed on the altar of democracy for the sake of others." He added