Lebanon's PM designate Tammam Salam may quit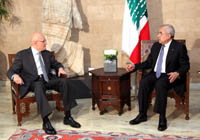 Prime Minister designate Tammam Salam said on Monday that there has been no progress in the cabinet formation process and did not rule out the possibility of resigning from his post.
Following talks with President Michel Suleiman at Baabda palace , salam told reporters :
"Resigning from the [mission] to form a cabinet is one of the options available to me," adding: "I have not received yet any suggestions for names in the cabinet,"
He reiterated his rejection of forming a cabinet in which any faction will have a veto power and said that he supports portfolio rotation inside the cabinet.
The designate-PM also praised the 'constructive' role played by Progressive Socialist Party leader MP Walid Jumblatt in the cabinet formation.
Salam is still holding onto his proposal of formoing a 24-member government divided equally among the March 8 and March 14 alliances and the centrists.
Salam, Jumblatt and Suleiman constitute the centrist bloc.
Most of the March 14 leaders have called for the new government to be technocratic and not include ministers who are running for parliament in the upcoming election, while March 8 insists on having a veto power in a political cabinet . In addition , MP Michel Aoun ,a a key mmeber of the Hezbollah-led March 8 rejects the idea of portfolio rotation and is insisting on keeping the ministries of energy and communication.