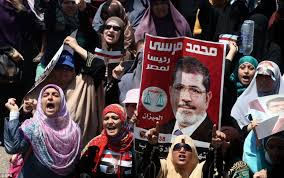 Tens of thousands of supporters of Egypt's deposed Islamist president rallied across Cairo on Friday, hurling rocks and fireworks and clashing with security forces in the first major show of defiance against what they have termed an illegal military coup.
As night fell over Cairo and military helicopters circled the capital, supporters and opponents of ousted President Mohamed Morsi battled on the bridges and overpasses leading to Tahrir Square, the heart of the protests that preceded Morsi's removal Wednesday. Civilians attacked one another with chunks of asphalt, used corrugated metal sheets as shields and set fire to a car in scenes reminiscent of the chaotic street fights that accompanied the revolt that toppled longtime dictator Hosni Mubarak in early 2011.
At least 30 people were killed nationwide and more than 200 were injured, according to news reports, with the toll likely to rise. State television said two people were killed in the clashes around Tahrir Square.
Egypt's military, which removed Morsi from power after widespread protests against what his critics deemed an autocratic approach to leadership, had pledged to allow peaceful protests and didn't immediately intervene to stop the street battles, despite having troops posted nearby.
After nearly three hours, as the Morsi supporters were beginning to fall back, a line of armored personnel carriers, some with civilians riding aboard and waving, rolled across the October 6 Bridge, ending the fighting.
The violence marked a sharp escalation in tension since the military took charge this week, suspending the constitution, issuing arrest warrants for some 300 Muslim Brotherhood figures and installing a senior jurist as interim president. Morsi, the Muslim Brotherhood leader who won a narrow majority in Egypt's first democratic election last year, has called on supporters to defend his "legitimacy" but has urged nonviolence.
The army has said it won't reimpose military rule — as it did after Mubarak's ouster — but it hasn't set a date for parliamentary or constitutional elections. The Brotherhood said late Friday that its deputy chairman and former presidential candidate Khairat El Shater was arrested by security forces.
In Washington on Friday, State Department spokeswoman Jen Psaki said: "We condemn the violence that has taken place today in Egypt. We call on all Egyptian leaders to condemn the use of force and to prevent further violence among their supporters. As President Obama said, we expect the military to ensure that the rights of all Egyptians are protected, including the right to peaceful assembly, and we call on all who are protesting to do so peacefully."
Friday's violence raised the prospect that the Egyptian military might intervene more forcefully to restore order or might crack down more heavily on the Muslim Brotherhood if its leaders are believed to have incited the attacks.
In east Cairo, four people were killed when security forces opened fire on pro-Morsi demonstrators outside the headquarters of the Republican Guard, where the deposed president was believed to be held under military arrest. Video images captured at the scene showed a demonstrator in a gray T-shirt running up to a barbed-wire fence surrounding the Republican Guard facility and then collapsing in a heap as shots were fired.
State media, quoting security sources, said government forces had fired tear gas and blank cartridges but not live rounds.
Muslim Brotherhood supporters also stormed governors' offices in two northern regions, Sinai and Fayoum, according to the state-run MENA news agency.
The Brotherhood's spiritual leader made a dramatic appearance Friday before tens of thousands of supporters denouncing "military rule" and chanting, "Our president is Mohamed Morsi."
Supreme guide Mohamed Badie, an avuncular figure in spectacles who delivered an impassioned address, was thought to have been under military arrest, but he declared those reports "a lie."
It wasn't immediately clear whether he hadn't been arrested or whether he'd been released by the military, which is eager to show the Brotherhood's legions of supporters that its coup was based on Morsi's inability to overcome divisions in society rather than because it held antipathy toward the Brotherhood.
Badie spoke to a crowd in Nasr City, part of east Cairo, in what was the Islamist camp's largest gathering since Morsi's removal. Over the previous week, anti-Morsi demonstrators had overwhelmed his supporters with their numbers and fervor, and Muslim Brotherhood members had seemed stunned by the coup and the announcement of arrest warrants against them.
But on Friday, the Islamist camp appeared reenergized. Badie's speech featured the Brotherhood's favored nationalist-religious rhetoric, reminding Egyptians that they stood with them through Mubarak's three decades of authoritarian rule.
"Give Egypt back to its people," Badie said as the crowd cheered. "Give its presidency back to Mohamed Morsi and bring an end to military rule."
Mohamed Ibrahim, a 28-year-old engineer who joined the demonstration from the northern coastal city of Alexandria, described the military's moves as "a betrayal."
"We are here to protect [Morsi's] legitimacy," Ibrahim said. "We won't leave before the president is reinstated."
Saad Mohamed, an administrator at Al Azhar University, a major Islamic institution in Cairo, said that unless the army called for a referendum with Morsi on the ballot, "Egypt might turn into another Syria where Islamists fight against the army."
Meanwhile, the military-backed interim leader, Judge Adly Mahmoud Mansour, dissolved the upper house of the parliament in another attempt to curtail the Brotherhood's political influence. The normally weak Shura Council, which was dominated by Brotherhood members, had become a legislative rubber stamp for Morsi to push through laws and expand his power after the lower house of parliament was dissolved by court order last year.
The African Union announced that it had suspended Egypt's membership in the organization, describing Morsi's overthrow as an unconstitutional change of government. The decision will remain in effect until Egypt restores a constitutional democracy, a statement said.
Egypt also closed its border crossing into the Palestinian territory of Gaza after gunmen in the restive Sinai Peninsula killed an Egyptian soldier and wounded two others in the border city of Rafah. It wasn't immediately clear whether the attack was related to the coup.
Human Rights Watch called for an inquiry on the deaths of dozens of Morsi's supporters and opponents in political unrest since late June.
"The available information indicates that both supporters and opponents of Morsi — and possibly security forces as well — were responsible for needless loss of life," said Joe Stork, the group's deputy Middle East and North Africa director.
LA Times