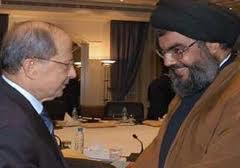 Lebanon's Free Patriotic Movement ( FPM) MP Ibrahim Kanaan said that there are many differences between his party and Hezbollah specially in the case of the extension of parliament's term.
"There are many differences between us and Hezbollah, including the issue of extension of parliament's term, especially since we consider it very necessary to hold the parliamentary elections," Kanaan told Akhbar al-Yawm news agency on Thursday.
He continued: "From the start, we did not hide anything, especially that the journey with Hezbollah will be a long one."
"Also, it is not true what is being said that the Free Patriotic Movement is always beside Hezbollah; however, the opposite is not true either," Kanaan added.
Differences have emerged in recent weeks between FPM lawmakers and the Amal Movement and Hezbollah after Speaker Nabih Berri proposed a parliament session that the Christian party opposed.
On Wednesday an MP in the FPM's Change and Reform parliamentary bloc, Salim Salhab, said the Amal Movement was "not completely credible."
Differences also emerged between FPM leader MP Michel Aoun and Hezbollah over the proposal to extend the term of army chief General Jean Kahwaji. While Hezbollah and Kahwaji have enjoyed exellent realationship, Aoun sees Kahwaji's possible retirement as an opportunity to appoint his son-in-law General Chamel Roukoz as the new army chief. Aoun who boycotted the Parliament session allocated last Wednesday for discussing the extension of Kahwaji's term ( among other issues) submitted a proposed that called for appointing Roukoz. Both Hezbollah and Amal showed up for the parliament session but the quorum was not met.
Aoun also raised eyebrows after meeting with Saudi Ambassador to Lebanon Ali Awad Assiri on Tuesday, hours after the envoy slammed Hezbollah.
Following his visit at Aoun's Rabieh residence, Assiri told reporters that the FPM leader – an ally of the Shiite group Hezbollah – was "welcome to visit Saudi Arabia."
During an interview on September 12, 2002 with Pat Robertson Aoun described Syria as a terrorist country and Hezbollah as a terrorist organization, but less than a year after he returned from exile in Paris( in 2005 days after Syria withdrew its troops from Lebanon ) he signed a memorandum of understanding with Hezbollah which gave a Christian cover to Hezbollah's war with Israel in 2006 and the ( Hezbollah) actions that followed the war. He also allied himself with the Syrian regime and continues till this day to defend Syrian president Bashar al Assad and Hezbollah's role in the Syrian Civil War, which has claimed so far over 100,000 victims.