Egypt's Morsi and military on collision course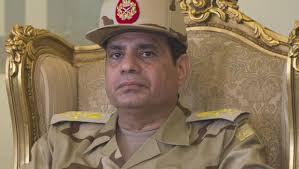 CAIRO — Egypt appeared headed for a collision between the Islamist government and its opponents Tuesday as the military threatened to toss out a controversial constitution and the legislature unless President Mohammed Morsi addresses the demands of a massive protest movement that rivals that of the 2011 revolution.
Egypt's military has drawn up a plan to suspend the Islamist-backed constitution, dissolve the Islamist-dominated legislature and set up an interim administration headed by the country's chief justice if Morsi fails to reach a solution with his opponents by the end of a Wednesday deadline, Egypt's state news agency reported.
The Army said it has no intention to take power but its reported army road map showed it was ready to replace Morsi and make a sweeping change in the political structure that has evolved since the 2011 fall of dictator Hosni Mubarak, according to the Associated Press.
Morsi said Tuesday he will not step down and on his official Twitter account said he rejects all "dictates." Another statement from Morsi's office said a "modern democratic state" was one of the main achievements of the 2011 uprising.
"With all its force, Egypt will not allow itself to be taken backward," the statement read.
However, Morsi did meet Tuesday with defense minister and army chief Abdel-Fattah el-Sissi, who presumably issued the ultimatum. No details were given about the meeting, reported by an official at the president's office, Ayman Ali. Sissi was appointed to his position by Morsi in August.
A senior Muslim Brotherhood leader, Mohammed Al-Beltagi, called for supporters of Morsi to be prepared for "martyrdom" to stop what he called an impending coup, according to Al Ahram newspaper.
"We are facing an official coup by the former regime, supported by counterrevolutionary forces, and media battalions who are deceiving the people and benefit from differences and political divisions," he said, according to the newspaper.
Opposition parties and the youth movement that have mobbed the streets since Sunday announced that former United Nations nuclear agency head Mohamed ElBaradei would represent them in any negotiations on the country's political future.
"It's a continuation of the power struggle between the military and the presidency," said Ziad Akl, senior researcher at Cairo's Al-Ahram Center for Political and Strategic Studies. "The Brotherhood believes that they still have political cards to play, that they still have tools that they can use to pressure the army."
Turmoil continued Tuesday as Egypt's foreign minister resigned, said the Egypt state news agency Mena. Five other ministers resigned Monday.
The police, which are under control of the Interior Ministry, have stood on the sidelines of the protests, refusing even to protect the offices of the Muslim Brotherhood that have been attacked and ransacked. Their ministry has thrown its weight behind the military.
If the army sticks to its own plan and a 48-hour deadline, the military could adopt a power position that threatens to further unhinge what has been an increasingly rocky road to stable democracy.
"There are two main scenarios, two more likely scenarios," said Shadi Hamid, director of research at the Brookings Doha Center and a fellow at the Saban Center for Middle East Policy at Brookings. "One is a full-on military coup where the army forces Morsi to leave … and oversees a political process that does not include Morsi."
The second scenario, Hamid said, is that the military mediates.
"Essentially the military would sponsor political dialogue between various political forces including president Morsi and … force them to at least sit down with each other andhash out their differences," he said. "And Morsi, as a part of that, would have to make major concessions."
In its statement broadcast on television Monday, the armed forces did not clarify its plan but said a "road map," if it were to be implemented, would involve participation of all parties and factions as well as youth. Later in the day, in a statement posted on its Facebook page, the army rejected claims that its announcement indicated a coup.
President Obama called Morsi on Monday and stressed that democracy is about more than elections, a White House statement said. "It is also about ensuring that the voices of all Egyptians are heard and represented by their government, including the many Egyptians demonstrating throughout the country," the statement said.
Obama said the United States is not supporting a specific party or group but is committed to the democratic process in Egypt.
Egypt's military has been a backbone of the state for decades. It took control of the country after Hosni Mubarak was ousted from power in 2011, and then governed for more than 16 months until Morsi was elected president last June.
Many Egyptians in 2012 were glad to see the military go to make way for a democratic state and civilian rule. But anti-Morsi protesters now are cheering the army, whose helicopters carried national flags in loops over demonstrations yesterday, soliciting chants from below of "The army and the people are one hand!" in displays of unity.
For days, anti-Morsi protesters have gathered in Egypt's streets demanding Morsi step down and calling for an early presidential election. Pro-Morsi demonstrators have also rallied to show support for the president, insisting Morsi is the nation's legitimate leader because he was democratically elected.
USA Today