A Baathist killed in Syria and buried in S. Lebanon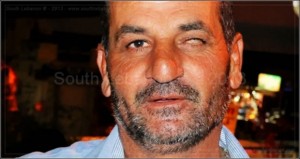 Gunfire and RPGs were heard on Wednesday during a funeral in the southern Lebanese area of Nabatiyeh for a member of the Socialist Arab Baath Party, who died while fighting in Syria in support of president Bashar al Assad, who is also a Baathist.
The victim  was identified as  Baath leader Afif Mortada according to a report by NOW.
During his funeral, Socialist Arab Baath Party flags were raised and gunmen shot and fired rocket-propelled grenades in the air despite the deployment of security forces and army intelligence near Nabatiyeh's Serail.
The Baath party had announced the man's death by saying that he died while "fulfilling his national and Arab duty." Over 100, 000 have been killed so far in Syria since the uprising against Assad and the ruling Baath party erupted in March 2011
NOW