Jumblatt warns against arms race calls for dialogue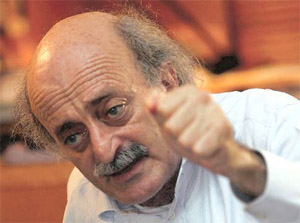 Commenting on the recent clashes in Abra of the southern city of Sidon between the Lebanese Army and the supporters of radical Salafist cleric Ahmad al Assir Progressive Socialist Party (PSP) leader MP Walid Jumblatt warned against arms race and escalation and called for dialogue .
"The recent unrest demonstrates that the spread of arms in Lebanon cannot be tackled with more arms, but through dialogue." Jumblatt said.
In a related development the Lebanese army handed over the mosque of Bilal bin Rabah , the scene of the clashes to the Muslim Ulemas. Assir who is now on the run was the former Imam of the Mosque.
Sidon Mufti Sheikh Salim Sousan said after the handover of the Bilal bin Rabah mosque:
" I salute the victims of the clashes and I announce that we regained control of this mosque and it will be reopened in the future."
He added : "Like the rest of the mosques in Sidon, this mosque taught the people peace and stability. It will once again regain its role in the Muslim community."
Sousan named Sheikh Mohammed Abou Zeid as the mosque's new Imam.
He called for a society of law and order .
"We oppose the illegitimate arms and support the army. We demand a society of law and order."
Sousan added: "Some of the suspects arrested in the clashes may be innocent and others may be guilty. I predict that several of them will be released in the upcoming days."
Minutes after he spoke Judge Saqr Saqr released from custody 29 detainees that were arrested during the Sidon clashes, while keeping 39 under arrest, LBC reported.
In another realted development, Hezbollah , the only officially armed militant group in lebanon vacated on Thursday the two apartments in Abra that were meters away from scene of the violent clashes.
Assir , on numerous occasions complained about the Hezbollah apartments and claimed that the militant group stocked weapons in them and used them to monitor him.
A source close to Hezbollah told AFP last Thursday that the party emptied the apartments "in order to restore peace in the city of Sidon". It is not clear why it took Hezbollah so long to vacate the apartments , specially since it could have saved the city and the country many human lives. 17 soldiers and 20 Assir supporters were killed in the clashes.