Berri: The parliament is not for the Shiites only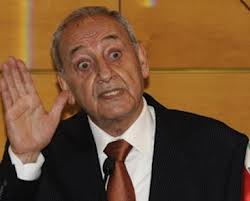 Lebanese Speaker Nabih Berri said in a Press Conference from his Ain el-Tineh mansion in Beirut: "We regret reports saying that holding the parliamentary session is related to the situation between Sunnis and Shiites", stressing that the parlaiment is for all the Lebanese people and not the Shiites only.
The Future Movement bloc, the Lebanese Forces bloc, and independent figures from the March 14 coalition have announced that they will boycott the parliamentary session scheduled for Monday.
"Caretaker PM Nagib Mikati said there is no need to hold the session, while president Michel Suleiman called for opening the session", Berri told reporters.
Berri said : "We are keen to preserve the country and the constitution."
The boycott decision comes a day after caretaker Prime Minister Najib Mikati argued that except for a proposal that would extend Army commander Gen. Jean Kahwagi's mandate, none of the 45 draft laws put on Parliament's agenda next week were deemed urgent to justify a series of legislative sessions.
Berri , wo set three consecutive legislative sessions for next week – from Monday to Wednesday – to study and approve some 45 draft laws listed on the agenda, said today the sessions will be held despite the boycott.
Berri's decision sparked a controversy over the constitutionality of these sessions with the presence of a government which resigned in late March.
Among these draft laws is a proposal to extend Kahwagi's term by raising the retirement age of top military and security officials.
Berri , who closed the parliament for 18 months folowing the 2006 war between Hezbollah and Israel said no one should accuse him in the future of closing the parliament .
"They should accuse someone else of paralyzing the state", he said.
PM Designate Tammam Salam has been trying to form a cabinet of 24 ministers ( 8 each for the centrists, March 14 and March 8 blocs) for several months but the the Hezbollah-led March 8 group is insisting on having a veto power in the cabinet and is demanding 9 seats instead .
March 14 on the other hand is reportedly isisting on having a new cabinet before a parlaiment session is held.
MP Butros Harb announced today on behalf of the independent MPs their rejection of the parliament's agenda and their questioning of the legality of the session.
He explained that President Michel Suleiman should have issued a decree to hold an extraordinary parliamentary session in light of the presence of a "caretaker government".