Nigeria charged 3 Hezbollah linked men with terrorism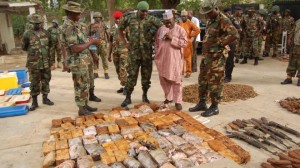 Nigeria on Wednesday charged three Lebanese nationals allegedly linked to the militant Shiite movement Hezbollah with terrorism related offenses.
Five Lebanese nationals were implicated last month after a huge cache of arms and ammunition was found in their premises in the northern city of Kano and the capital Abuja.
Three of them — Mustapha Fawaz, aged 49, Abdallah Thahini, 48 and Talal Ahmad Roda, 51 — were hit with a six-count charge of terrorism, while a fourth suspect was freed and the fifth was said to be on the run.
The three were also said to hold Nigerian citizenship.
Court papers said they "professed to belong to Hezbollah military wing, an international terrorist organization, and you thereby committed an offence…"
The trio were accused of conspiracy "to receive training in preparation to engage in the commission of a terrorist act."
The suspects were also alleged to have "directly rendered support to a terrorist group" by providing in their premises "weapons for terrorist activities."
They were accused of permitting "a meeting connected with act of terrorism to be held" at their premises, an upscale supermarket and amusement resort in Abuja.
Thahini was said to be the coordinator of Hezbollah in Nigeria as well as a conduit to transfer funds for its operation.
The suspects pleaded not guilty to the charges and the judge ordered that they be remanded in custody until the next hearing on July 8.
Defense lawyer Ahmed Raji said Nigeria would not be able to sustain the charges of belonging to a terrorist group since there has not been a formal declaration of Hezbollah as a terrorist sect by the government.
Last month, Nigeria's security services discovered a home in Kano where weapons they claimed were intended to attack Israeli and Western targets in Nigeria were kept.
Further searches also revealed more weapons in another property owned by the Lebanese in Abuja.
Nigeria is confronting an insurgency waged by radical Islamist group Boko Haram that has left thousands dead since 2009.
Observers see Boko Haram primarily as a domestic group that has possibly sought closer ties to Al-Qaeda's west Africa franchise.
Nigeria is home to a sizeable Lebanese population, including in the mainly Muslim north.
AFP
Photo: Th e above photo released by the Nigerian Army claims to show soldiers and civilians inspecting a displayed arms cache recovered from a house in Kano, Nigeria, Thursday, May 30, 2013. Nigeria's military and secret police say they've discovered an arms cache in the north's largest city they say belongs to members of the Lebanese political party and militant movement Hezbollah. Officials showed journalists the cache of weapons . The arms, later shown on the state-run Nigerian Television Authority, appeared to include badly corroded rocket-propelled grenades, land mines, hand grenades and assault rifle magazines. (AP Photo/Nigerian Army) (The Associated Press)