Hariri slams Aoun's accusations over the Sidon clashes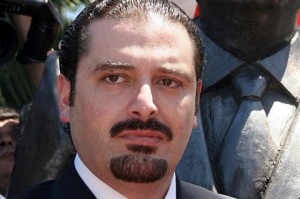 Former Lebanese Prime Minister and Future Movement leader MP Saad Hariri slammed on Tuesday Free Patriotic Movement leader MP Michel Aoun's accusations against his party over the Sidon calshes , stressing that he gave "full political cover" for the army in its fight against the Salafist cleric Ahmad Al Assir.
"We announced our support for the army in words and in deeds, and gave it full cover to strike with an iron fist anyone who may be tempted to assault the state and threaten national peace," Hariri said in a statement on Tuesday.
Addressing Aoun, Hariri added: "I wish you had done the same when the army was attacked by your ally Hezbollah in Mar Mikhail, or after the helicopter incident and the martyrdom of Officer Samer Hanna."
Army 1st Lieutenant Samer Hanna was killed in August 2008 when Hezbollah gunmen opened fire on his helicopter over Sojod hills in south Lebanon.
The FPM leader earlier on Tuesday accused the Future Movement leaders of neglecting the Sidon incident :
"Politicians and Futurel Movement's neglect have lead to this situation, just like what happened in (the northern city of) Akkar," Aoun said.
Hariri also slammed Aoun's "proclamation of an exclusive right to approach the extension of Army Commander Gen. Jean Kahwaji's term."
"As for your claim of knowing the army and its command better than anyone else, it is doubtful, if we recall the leadership which found that escaping the presidential palace under the pressure of its bombing by the Syrian regime -the present ally and the previous enemy of the General- was the best way to express exemplary command."
Hariri stressed that "the army is for all the Lebanese, Christians and Muslims."
Aoun had stressed earlier that extending the term of Kahwaji "must not be the price for the troops' sacrifice in Sidon.
Aoun added: "We are the ones who should give our opinion regarding the army's chief as per the traditions of appointments and we are the representatives of Christians in the cabinet."
MTV reported last January that Aoun is opposed to Kahwaji's term extension because he is eying the position of army chief for his son-in-law general Chamel Roukoz who is currently the commander of Lebanese Commando Regiment, also known as Maghaweer.