Geagea: Aoun belittling the sacrifices of the Lebanese army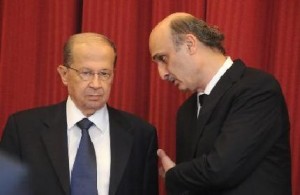 Lebanese Forces leader Samir Geagea lambasted the leader of the Free Patriotic Movement MP Michel Aoun for suggesting that the term of the Lebanese army commander should not be extended.
"MP Michel Aoun's remarks could only be considered as militia-like remarks in which he is trying to belittle the latest sacrifices of the army," Geagea said in a statement issued on Wednesday.
"He wants to use the blood of the soldiers to score electoral points that serve his narrow interest."
"Is Aoun trying, alongside the March 8 forces, to transmit the disease of political vacuum to the army leadership?" Geagea asked
Geagea's statement came as a response to the FPM leader, who on Tuesday rejected the suggestion made by former PM and Future Movement leader MP Saad Hariri for extending the term of LAF Commander General Jean Kahwaji.
" I would like to tell him the army's sacrifice must not be the price for extending Army Commander Gen. Jean Kahwaji's term especially since we are against extension in general and we do not want to manipulate the military institution's law." Aoun said after his weekly meeting of the Change and Reform bloc in reference to the clashes that took place earlier in the week between LAF troops and armed supporters of Sunni cleric Ahmad al-Assir.
Aoun added: "We are the ones who should give our opinion regarding the army's chief as per the traditions of appointments and we are the representatives of Christians in the cabinet."
MTV reported last January that Aoun is opposed to Kahwaji's term extension because he is eying the position of army chief for his son-in-law general Chamel Roukoz who is currently the commander of Lebanese Commando Regiment, also known as Maghaweer.
In his statement, Geagea also slamed Aoun for criticizing President Michel Suleiman's complaint against Syrian shelling of Lebanon's border towns.
"This is an attempt by Aoun to undermine and marginalize the only remaining constitutional leadership position." Geagea stressed
Aoun denied yesterday accusing President Suleiman of being a traitor for filing complaints with the Arab League and the United Nations Security Council over Syria's attacks on Lebanese territories.
"We could say he was mistaken, but not a traitor," Aoun stressed.