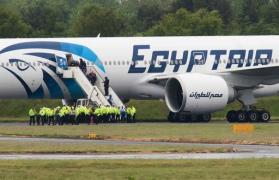 An EgyptAir jet heading to New York from Cairo was diverted and landed in Scotland on Saturday after a passenger found a note in a toilet containing a threat to set the plane on fire, the Egyptian airline told Reuters.
The pilot informed air traffic control and landed at Glasgow Prestwick Airport, where the 310 passengers disembarked, Tawfik Assy, chairman of the state-owned airline, said in Cairo.
A note written in English and reading "This flight will be on fire" was found next to a pencil in one of the plane's toilets by a woman passenger, Assy said.
Once the crew were made aware, the pilot diverted. "According to the rules, we have to be on the ground as soon as possible," Assy said.
Scottish police confirmed the incident.
"At around 1420 BST (1320 GMT) today an Egyptair aircraft … was diverted to Prestwick airport after a suspicious note was discovered on the aircraft," they said in a statement.
"There are no reports of anyone injured."
No comment was immediately available from the airport but a statement on its website said flights were operating normally after the incident.
Reuters