Italy condemns Hezbollah's Syria role, warns of vengeance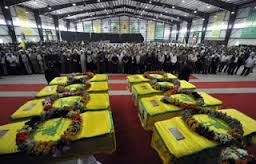 The Italian foreign ministry on Wednesday condemned Hezbollah's military intervention in the Syrian conflict, warning that it might lead to retaliatory attacks inside Lebanon.
"Italy condemns Hezbollah's intervention in the ongoing war in Syria — an intervention that has been publicly announced by the organization," Italian news agency AKI quoted Foreign Minister Emma Bonino as saying during a joint hearing before the foreign affairs and defense committees at the parliament and senate.
In addition to complicating efforts to "resolve the conflict," the presence of Hezbollah's fighters in Syria "puts the Lebanese society at the risk of vengeance," Bonino added.
The agency also quoted Defense Minister Mario Mauro as warning:
"There is a real threat that the conflict might spill over into the neighboring territories and countries."
He also warned that the increase in the number of refugees in Lebanon "will destabilize such a small country."
Hezbollah's involvement in the Qusair battle underlined the group's commitment in support of President Bashar Assad's regime and edged the civil war in Syria closer to a regional sectarian conflict pitting the Middle East's Iranian-backed Shiite axis against Sunnis.
Syrian rebels attacked a village in the country's east, killing dozens of Shiites, mostly pro-government fighters reportedly in retaliation to Hezbollah's involvement in Syria.
Yesterday Free Syrian Army leader , Colonel Riad Al Asaad branded Hezbollah as Syria's enemy number one and accused it of invading his country.
Also yesterday Former Lebanese PM and current Future parliamentary bloc leader MP Fouad Siniora accused Hezbollah of gambling with the interests of the Lebanese people.
"Hezbollah is not only gambling with its own future but with the interests and livelihood of all the Lebanese people," Siniora's press office quoted him as saying.
Hundreds of the Iranian backed Hezbollah fighters have reportedly been killed in Syria and brought to Lebanon for burial during the past few months.