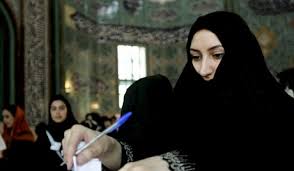 Despite four years of nonstop pressure, arrests and intimidation, Iran's dissidents still find ways to show their resilience.
Protest messages ricochet around social media despite Iran's cyber cops' attempts to control the Web. Angry graffiti pop up and are then quickly painted over by authorities. Mourners at the funeral of a dissident cleric flashed V-for-victory gestures and chanted against the state.
But just a look at the sidewalks around Tehran's Mellat Park shows how far Iran's opposition has fallen as the country prepares for Friday's presidential election.
Four years ago, girls on Rollerblades sped around the park delivering fliers for the reform camp's candidate-hero Mir Hossein Mousavi. Emerald-colored headscarves and wrist bands representing Mousavi's Green Movement were in such demand that bloggers would list shops with available fabric.
This time, there are just a few subdued election placards, and those only for candidates considered fully in sync with Iran's ruling clerics. Security forces and paramilitary volunteers are never far away.
Mousavi and another opposition leader, Mahdi Karroubi, are under house arrest. Hundreds more activists, bloggers and journalists have faced detention in the relentless crackdowns since Mahmoud Ahmadinejad's disputed re-election in 2009 brought accusations of vote rigging and something Iran has not seen since the 1979 Islamic Revolution: huge crowds in the streets chanting against the leadership.
Iran's forces for reform are not so much crushed as bottled up tightly. Now the election that marks the end of Ahmadinejad's eight-year era also brings another moment of political transition: Whether the loose affiliation of reformists, liberals and Western-leaning activists can somehow remain relevant in a time when the guardians of the Islamic establishment are consolidating their defenses.
"There is no shortage of people in Iran who would like to see a different way of being governed and a different world view from the leadership," said Theodore Karasik, a security and political affairs analyst at the Dubai-based Institute for Near East and Gulf Military Analysis. "Trouble for them is that they are now fragmented and disorganized. This is exactly what Iranian authorities want to see."
The entire process has been derided by Western governments and rights groups as a farce after Iran's election overseers — all loyal to Supreme Leader Ayatollah Ali Khamenei — blacklisted former President Akbar Hashemi Rafsanjani from the ballot despite his lofty status as one of the architects of the 1979 revolution.
For Iran's rulers, the relatively moderate Rafsanjani represents an unsettling force who could breathe some life into the battered opposition.
Associated press