3 more caves discovered in Lebanon's Qadisha valley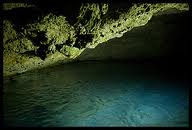 Three more marvelous caves were recently discovered in Wadi Qadisha which is known for its steep cliffs, LBC reported on Sunday .
The interior walls of the caves are covered with layers of colorful stalactites in grey and dark green, the report states.
Click here to view the newly discovered Qadisha caves
Qadisha which contains over 100 caves is one of the deepest and most beautiful valleys in Lebanon.
The word Qadisha comes from a Semitic origin meaning "holy" and Wadi Qadisha is the "Holy Valley."
Filled with caves and rock shelters inhabited from the third millennium B.C. to the Roman period, the valley is scattered with cave chapels, hermitages and monasteries cut from rock. Since the Early Middle Ages generations of monks , hermits, ascetics and anchorites found asylum here. Even Moslem Soufis were found in this valley.
Wadi Qadisha is the home of Magharet Qadisha ( Qadisha Grotto) , which was discovered by priest John Jacob, a monk of Monastry of St. Joseph, in 1923. He was looking for the sources of Qadisha river.