Syrian army claims 'total control' of war-rattled Qusayr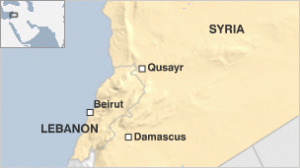 Syria's army "totally controls" the strategic region of Qusayr near the Lebanese border after an offensive against rebel fighters that lasted almost three weeks, state television said on Wednesday.
"The Syrian army totally controls the Qusayr region in Homs province after killing a large number of terrorists and capturing others," the report said, using the regime's terminology for the rebels.
Fighters from Lebanese Shiite group Hezbollah, allies of the Syrian government, have been fighting alongside the Syrian army over the past month, battling against fighters from the opposition Free Syrian Army (FSA).
At least eight Hezbollah fighters were killed on Tuesday in fighting against Syrian rebels near Damascus, FSA chief of staff Salim Idriss told Al Arabiya.
In southern Lebanon, thousands of Hezbollah supporters held funerals for two fighters who were killed while fighting with Syrian President Bashar al-Assad's army in Syria.
Hezbollah's army is reportedly fighting in various fronts across Syria, including areas of Homs, Aleppo and Damascus in addition to the areas bordering Lebanon.
On Tuesday, the United States reiterated its condemnation of Hezbollah's involvement in Syria.
"We are deeply concerned by the continued fighting in Qusayr and condemn the indiscriminate killing of civilians by Assad's forces and his proxies, including Hezbollah fighters," White House spokesman Jay Carney said.
The United States and Russia have pledged to work in tandem to seek to bring the Syrian regime and the opposition together and try to negotiate a political transition to end the war that has left some 94,000 dead.
The initial plan for the talks to be held early this month — to build on an accord signed in Geneva on June 30 — has now slipped into July, amid wrangling over the exact guest list and agenda.
The Syrian opposition has said they would not attend as long as fighters from Iran and the Islamist-militia Hezbollah are fighting in Syria alongside the forces of President Bashar al-Assad.

Rebels deny losing Qusayr
Fahd Al Masri , a media official in the Central Joint Command of the Free Syrian Army denied the claim by the Syrian regime, saying that "the situation is more than excellent" confirming the deaths of dozens of Hezbollah fighters after midnight. He pointed out that the regime is using the media in its psychological warfare.
Al Arabiya