Suleiman slams Syrian attack of Lebanon's Arsal area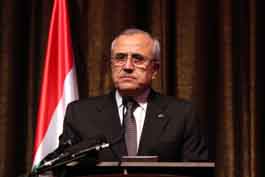 Lebanese President Michel Suleiman slammed the attack by the Syrian regime helicopter on Khirbet Daoud near the border town of Arsal in east Lebanon on Wednesday and urged Damascus to respect Lebanon sovereignty .
Syria "must respect Lebanese sovereignty and not put Lebanese areas and its population at risk," Suleiman said in a statement.
Earlier today Syrian helicopters fired at least four rockets near the border town of Arsal.
The security source said the bombs struck a barren area in Khirbet Daoud, about 10 kilometers north of Arsal.
Arsal's deputy Mayor Ahmad Fliti confirmed the midday attack.
No casualties were reported
This strike was the second on Khirbet Daoud in less than two months, according to local reports .