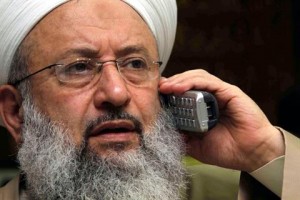 Sheikh Maher Hammoud, the Imam of Quds mosque in the southern city of Sidon, said Monday that assailants opened fire on him while he was heading for prayers but he escaped unscathed.
This is not the first time the Sunni cleric was subjected to an attack. Last April a group of men harassed him in Sidon , shots were fired which led to the wounding of two of his bodyguards according a to a police report.
Update  1 : The security forces found the car which was used in the assassination attempt against sheikh Maher Hammoud. It is a Toyota, MTV reported
Update 2: MTV also reported that  the security forces arrested the owner of the Toyota used in the attack on Sheikh Hammoud. He was not identified
Update 3:  Sheikh  Hammoud told Voice of Lebanon radio (100.5) that the assailants fired around 20 rounds from a passing vehicle after he went out of his house in Quds square to head for prayers. Hammoud  who is closely associated with Hezbollah hinted that "sympathizers with the Syrian opposition could be behind" the assassination attempt.
Hezbollah fighters  have been helping the Syrian  regime in its crackdown against the Syrian opposition  who are seeking to topple the embattled Syrian president  Bashar al Assad . Over 150 Hezbollah fighters have reportedly been killed during the past few months in Syria