Ferry capsizes in Malaysian river, some missing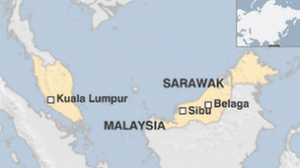 KUALA LUMPUR, Malaysia (AP) — An overloaded ferry capsized Tuesday when it hit rocks in a remote river in Malaysia's Borneo, leaving an unknown number of people missing, Malaysian police said. Some survivors swam ashore.
The vessel was believed to be carrying much more than its recommended limit of 74 passengers, said Bakar Sibau, a district police chief in Malaysia's Sarawak state.
Bakar said there appeared to be dozens of survivors, including many who swam ashore, but he could not give precise figures.
The boat was packed because many are heading to their home villages for a harvest festival holiday that Borneo indigenous tribes will celebrate later this week, Bakar said.
Borneo island is divided among three countries: Indonesian territory in the south, two Malaysian states in the north and tiny Brunei on the north coast.
Associated press