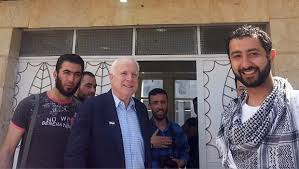 US Sen. John McCain, one of Congress' strongest advocates for increasing America's role in Syria, on Monday became the highest ranking U.S. official to visit the country since a bloody civil war broke out there more than two years ago, NBC News has confirmed.
The Arizona Republican crossed the Turkey-Syria border with Gen. Salem Idris, the leader of the Supreme Military Council of the Free Syrian Army, The Daily Beast first reported.
McCain stayed in the country for several hours during the unannounced trip and met with rebel leaders, who called on the United States to increase its support of the Syrian opposition by providing weapons, a no-fly zone and air strikes on forces loyal to President Bashar al-Assad.
"The visit of Sen. McCain to Syria is very important and very useful especially at this time," Idris told The Daily Beast. "We need American help to have change on the ground; we are now in a very critical situation."
McCain has been one of the most vocal critics of how President Obama's administration has handled the civil war that has claimed more than 70,000 lives, according to U.N. estimates. McCain has shied from calling for U.S. boots on the ground there, but has advocated for the U.S. to enforce a no-fly zone and further arm the rebel groups.
Earlier this month, McCain authored an op/ed for Time Magazine in which he wrote that inaction in Syria will further destabilize the Middle East and threaten American interests abroad.
New reports of chemical weapons attacks by Assad's forces have surfaced in recent days as fighting has increased. Obama has called the confirmed use of such weapons a "red line" warranting further involvement — but it is unclear what that involvement may be.
The rebels told McCain on Monday that chemical weapons have been used against them on multiple occasions, according to The Daily Beast.
Further complicating the conflict is Lebanese terrorist group Hezbollah's support of Assad, which was formally announced on Saturday. The news only stoked the fears of those already worried that the Syrian crisis could spill into Lebanon.
Leaders of the Free Syrian Army told McCain they are running out of ammunition and need more advanced weapons to counter Assad, according to the report. They also said there is a growing number of Russian military advisers, as well as increased amounts of Iranian and Iraqi troops on the ground in Syria.
News of McCain's trip soon was followed by an announcement that European Union governments had failed to reach an agreement on easing an arms embargo to help the rebels.
EU foreign ministers met in Brussels on Monday to bridge their differences over the issue, with Britain and France pushing to allow European governments to deliver arms. Austria and several other EU capitals oppose such moves.
"I regret that after long talks it was not possible to find a compromise with the UK and France," Austrian Foreign Minister Michael Spindelegger told reporters.
NBC