At least '79 Hezbollah fighters' killed in Qusayr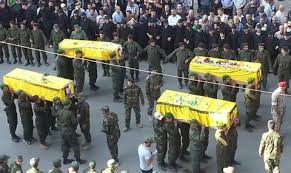 At least 79 members of the Lebanese militant group Hezbollah have been killed fighting alongside the Syrian army in the town of Qusayr since last week, a watchdog said on Monday.
"The number of Lebanese Hezbollah fighters killed in recent months in the outskirts of Damascus and Homs has risen to 141," the Syrian Observatory for Human Rights said in a statement.
"That includes 79 fighters killed from the period starting at dawn on May 19 to dawn on Sunday yesterday, killed by mines, snipers and fighting in the town of Qusayr and its surroundings," the group added.
On Sunday, a source close to Hezbollah said the group's toll in several months of fighting was 110, most of them killed in Qusayr.
Hezbollah has been sending fighters to fight alongside the Syrian army against rebels for several months.
But the battle to retake rebel stronghold Qusayr in the central province of Homs has been its biggest and bloodiest engagement so far.
On Saturday alone, 22 fighters from the Shiite group were killed in Qusayr, the source close to the group told AFP.
The same day, Hezbollah chief Hassan Nasrallah vowed his group would win a "victory" in Syria.
"I say to all the honorable people, to the mujahedeen, to the heroes: I have always promised you a victory and now I pledge to you a new one" in Syria, he said at a ceremony marking the 13th anniversary of Israel's military withdrawal from Lebanon.
Nasrallah said Hezbollah would always stand by its ally, President Bashar al-Assad, and his regime, stressing that its own interests were at stake.
"We will continue along the road… bear the responsibilities and the sacrifices," he said in a video link of a speech delivered live on a huge screen.
"This battle is ours… and I promise you victory."
Nasrallah appealed for Lebanon to be protected from the violence raging across the border.
But on Sunday several rockets slammed into Hezbollah's southern Beirut stronghold, wounding four people.
And fighting between pro-Syrian regime Alawites and pro-uprising Sunnis in the northern Lebanese port of Tripoli has killed 31 people in the past week.
Al Arabiya