Hezbollah's death toll in Syria 75 fighters , report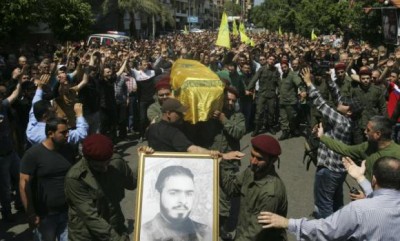 BAALBEK, Lebanon: Seventy-five fighters from Lebanon's Hezbollah have been killed in Syria since they first became involved in the country's war months ago, a source close to the Shiite militant group said on Thursday.
"There have been 57 killed and 18 others who have died of their wounds since the start of its (Hezbollah's) participation in the war in Syria," the source told AFP.
Hezbollah combatants have become increasingly involved in Syria's conflict, fighting alongside President Bashar Assad's forces against an insurgency that flared after a brutal regime crackdown on democracy protests.
Initially Hezbollah said it only wanted to defend 13 Syrian villages along the border where Lebanese Shiites live, and the Sayyeda Zeinab shrine near Damascus, an important Shiite pilgrimage site.
However, its elite fighters later encircled Qusair with regime troops before the launch on Sunday of a withering assault on the strategic border town that is home to 25,000 people.
Hezbollah denied its involvement in Syria for some time, quietly burying fighters killed in Syria.
But the movement stopped hiding its dead when its leader Hassan Nasrallah paid homage to militants killed across the border on April 30.
"Syria has true friends in the region who will not allow Syria to fall into the hands of the United States, Israel and 'takfiri' groups," he said in an interview with the movement's television channel, Al-Manar.
Waddah Sharara, an expert on the organization, says Hezbollah has some 20,000 fighters, of whom 5,000 to 7,000 have experience of combat. Between 800 and 1,200 of these have been taking part in the battle for Qusair.
Arab News/ AFP