Syrian rebel chief brands Hezbollah the 'devil's party'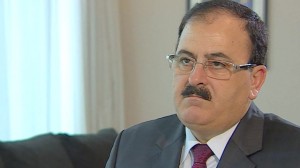 Beirut, Lebanon – Syrian rebel leader Gen. Salim Idriss warned the Lebanese government on Monday to stop the Hezbollah fighters from entering Syria or risk bringing the Syrian war to Lebanon.
In a phone interview from Jordan, where he is holding talks ahead of Thursday's "Friends of Syria" meeting, the head of the opposition Supreme Military Council lashed out at Hezbollah as religious extremists, while also claiming President Bashar Assad's government had lied about gains in the strategic city of Qusair over the weekend.
He branded Hezbollah (the party of God) the devil's party
"The devil's party is attacking Syrian territory, slaughtering the Syrian people to help the criminal Bashar's forces," he said.
"They lied, they were not able to enter Qusair and the number of theirs killed was in the dozens," he said of fierce battles Sunday in the city, 40 km from the Lebanese border. "Their dead are lying on the streets."
Idriss said the Free Syrian Army was well armed and being reinforced, determined to defend the city.
"We respect Lebanon's sovereignty and we don't want to bring the battle to Lebanon, but our patience is running out," he said. "We want the Lebanese president to guarantee that Hezbollah will not enter our territory."
It is unclear if Idriss' warning implies a further escalation or simply a continuation of the repeated shelling of Hermel and other Bekaa Valley areas by rebel groups over the past month.
"These are religious extremists with no respect for the integrity of Lebanon, who have built a state within the state," he said of the party.
Idriss appealed to all foreign fighters in Syria to leave, and pointed to the role of Hezbollah as "religious extremists' and a "foreign militia" to counter the regime's claims that the uprising was backed by foreign extremists.
"What is more dangerous: Hezbollah or Nusra?" he asked in reference to the Jabhat al Nusra
A huge convoy of Hezbollah fighters headed to Syria during the week end to help the forces loyal to president Bashar al Assad in retaking the town of Qusair from the Syrian rebels. Watch the video
The Syrian Observatory for Human Rights, an opposition watchdog group, reported that at least 28 Hezbollah guerrillas had died in the fighting. If confirmed, that would be by far the largest toll for Hezbollah in a single Syrian battle.