In a rare interview Syria's Assad says he will not step down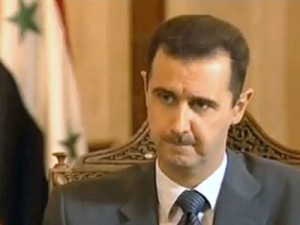 BEIRUT, Lebanon — In a rare interview published Saturday, Syrian President Bashar al-Assad expressed doubt about the likely success of planned peace talks between his government and opposition forces and said he has no intention of stepping down.
In the interview, given to Argentina's Clarin newspaper, the embattled leader also said he plans to run in a presidential election in 2014 and suggested that the rebels and their backers in the West do not want peace.
Russia and the United States have pledged to work together to broker peace talks, but Assad's hard-line stance will make it difficult to get negotiations off the ground. Opposition groups have already said they will negotiate only on the understanding that the president steps down.
Assad, who has been in power for 12 years since taking over from his father, said it was up to the Syrian people to decide "who should go and who should stay." Election observers would have to come from "friendly countries like China and Russia," he said; the West could not be trusted.
According to an article by interviewer Marcelo Cantelmi published on Clarin's Web site Saturday, Assad struck a defiant tone throughout their conversation in his Damascus palace and appeared "severe" and "rigid."
"We have made reforms, we changed the constitution, we changed laws, we annulled the state of emergency and announced a dialogue with political opposition forces, but the terrorism increased every day," he told Cantelmi, according to a video of the interview posted on the Guardian's Web site.
"One negotiates with political forces, but not with a terrorist who slits throats, kills and uses toxic gases that are chemical weapons," Clarin quoted Assad as saying.
Assad's own army has been accused by the United Nations of carrying out sectarian killings and shelling civilians, and Britain, France and the United States have said there is evidence his forces may have used chemical weapons. He denied in the interview that his military has used excessive force, dismissed the chemical weapons allegations and questioned the United Nations' estimate of the death toll, currently up to 80,000.
Acknowledging that Syria is "suffering from a crisis," the president told Clarin that "a captain does not flee his ship during the storm," according to the video posted by the Guardian.
His country has been in stormy waters for more than two years now, with fighting continuing to rage across Syria. In addition to the estimated death toll, the United Nations says that some 1.5 million people have been forced to flee their homes.
In the latest news, gunmen were reported to have kidnapped the elderly father of Syria's deputy foreign minister, Faisal Mekdad. He was apparently seized Saturday in the southern province of Daraa.
Washington Post