Berri withdrew his electoral law proposal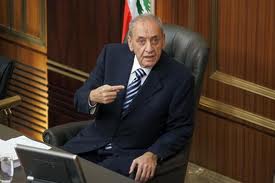 Lebanon Parliament Speaker Nabih Berri withdrew his electoral law proposal during the electoral sub-committee's meeting on Thursday after it was rejected by the Future Movement, National News Agency reported.
The mixed electoral law presented by Berri called for 50% of the parliament to be elected according to the Orthodox proposal and 50% according to according to the 1960 electoral law.
Future bloc representative at the meeting MP Ahmad Fatfat rejected Berri's proposal, while OTV said that Free Patriotic Movement and Hezbollah MPs approved it.
Meanwhile, LBC television reported that the Phalange party was leaning towards accepting Berri's proposal.
Fatfat explained: "This proposal is not balanced: It gives 65 MPs to March 8 and 53 to March 14 and 6 guaranteed MPs for the Progressive Socialist Party, and the remaining 4 are unknown."
"We refuse the Orthodox proposal and the 1960 law, therefore they cannot be mixed," he added.
After these remarks, Berri withdrew his proposal and adjourned the meeting until 7:30 p.m.
As the day drew to a close, Berri adjourned the sub-committee's meetings again until Friday at 1 p.m.
MPs also said following the meeting that the parliament will meet on Saturday at 10 a.m. instead of Friday evening.
The parliament was set on Wednesday to meet to tackle what law to adopt for the upcoming elections, but Speaker Nabih Berri postponed the session after the Lebanese Forces, Progressive Socialist Party, Future Movement and independent Christian MPs proposed a mixed electoral law as an alternative to the Orthodox one, which was the only item on the parliament session's agenda.
If the parliament fails to agree on a new electoral law by a May 19 deadline, the 1960 law that governed the 2009 parliamentary vote would go into effect for the upcoming elections scheduled for June 16.
Now