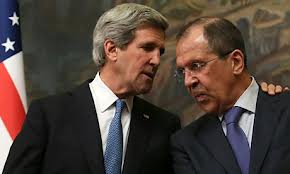 An international conference aiming to help broker an end to the Syrian war is likely to be held in early June and not this month as the U.S. works to bring the sides together, a U.S. official said Monday.
State Department spokeswoman Jen Psaki would also not rule out that key Syria ally Iran could be invited to join the talks aimed at building on a six-point deal reached in Geneva on June 30 last year.
Secretary of State John Kerry and his Russian counterpart Sergei Lavrov announced in Moscow last week they were planning to convene new talks in search of a political resolution to end the conflict now in its third year.
They both said it was hoped the talks could be held before the end of May.
But Psaki told reporters: "As you know, there are many different players, many different countries involved here. It looks like it will slip past that to possibly early June."
No venue has been agreed yet either, although Geneva could play host.
"The goal here is of course to get representatives of both sides to the table," Psaki told reporters, although it remained unclear who would represent either the opposition or the regime of President Bashar al-Assad.
Asked whether Iran would be part of the talks, Psaki said: "I can't rule in or out participants at this stage just five days out from announcing the conference."
"We're working through the process with several of our partners around the world to determine the right group of participants in this," she added. "We're just not there in terms of announcing who will be a part of the conference yet."
But she added the United States remains "concerned about the role that Iran has played in aiding and helping the Syrian government."
Syria's key National Coalition opposition group is to meet May 23 to discuss the U.S.-Russian proposal during three-days of talks in Istanbul.
The group would then "take a decision on the Kerry-Lavrov proposal and our participation," Coalition spokesman Sonir Ahmed told AFP.
The opposition has demanded that Assad step down first as a pre-condition for any talks on a political transition — a position opposed to Moscow's stand.
Washington has said Assad cannot be part of any transitional government, but has left open the possibility that talks could start before he leaves power.
Al Arabiya