Salam to form a 14 member cabinet to avoid veto demands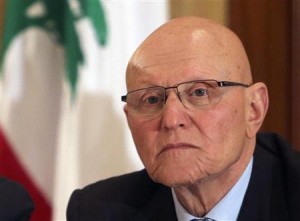 In order to sidestep the demands of the Hezbollah-led March 8 alliance for veto power in a 24 member government , Lebanon Prime Minister-designate Tammam Salam is planning to form a 14-member cabinet , according to local reports .
An Nahar newspaper quoted sources who are closely following up Salam's consultations with the country's major parties as saying that the talks left him with limited choices, including the 14-member cabinet that should be dubbed as a "public opinion" government.
Salam was planning to form a 24 member cabinet , but that government never saw the light because of the demands of the Hezbollah-led March 8 coalition for veto power.
Salam has rejected granting any party veto power over fears that it would paralyze the government.
According to An Nahar the PM-designate is expected to announce his cabinet line-up next Tuesday. The cabinet is expected to include: Three Sunnis, three Shiites, one Druze, three Maronites, two Orthodox, a Catholic and an Armenian minister. In other words 50% Muslims and 50% Christians as stipulated in the Taef accord
But sources close to Salam refused to confirm the report and stressed that consultations with the different parties are are still ongoing.
"All options are on the table," they said.