Assad calls Hezbollah a model for Syria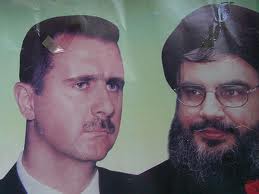 BEIRUT, Lebanon – Syria will "give Hezbollah everything" in recognition of its support and will follow the militant group's model of "resistance" against Israel, a Lebanese newspaper on Thursday, May 9, quoted President Bashar al-Assad as saying.
His comments, published by the pro-Syrian neswspaper Al-Akhbar, reportedly came during meetings with Lebanese visitors in Damascus and appeared intended to refute any suggestion that Israeli raids on Syrian targets would halt assistance to the Shiite group Hezbollah in Lebanon.
The newspaper said visitors quoted Assad as expressing "confidence, satisfaction and great gratitude towards Hezbollah."
The organization is a long-time ally of the Syrian regime and has sent fighters to battle alongside Assad's troops, particularly in the Qusayr district of the central province of Homs.
Damascus has long served as a supply conduit for Iran-backed Hezbollah, and Assad said they would reward the group for their loyalty.
"We have decided to give them everything," the newspaper quoted him as saying, without elaborating.
"For the first time we feel that we and they are living in the same situation and they are not just an ally we help with resistance," he said.
"We have decided that we must move forward towards them and turn into a nation of resistance like Hezbollah, for the sake of Syria and future generations."
Assad was quoted as saying Syria could "easily" respond to Israeli air strikes by "firing a few rockets at Israel."
"But we want strategic revenge, by opening the door of resistance and turning all of Syria into a country of resistance."
"After the strike, we are convinced that we are fighting the enemy now, we are pursuing its soldiers deployed throughout our country," he said, in apparent reference to rebel forces, which the regime has accused of being allied with Israel.
The Jewish state reportedly carried out two raids last week against military targets inside Syria, killing dozens of military personnel.
Israeli sources said the strikes targeted weapons bound for Hezbollah.
Israel has warned repeatedly that it will not allow Syria to transfer advanced weaponry to the Lebanese group, with which it fought a devastating war in 2006.
Israeli warplanes hit targets inside Syria early on Friday and Sunday mornings (May 3 and 5), raising new fears that the Syrian conflict, which is now in its third year, could draw in the rest of the region.
AFP