Syria brands the Israeli attack a 'declaration of war'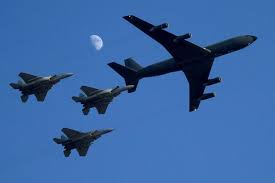 A series of massive explosions illuminated the dark sky over Damascus early Sunday, igniting renewed claims that Israel has launched attacks into the war-torn country.
Syria's government said the explosions were the second Israeli airstrike in three days. The latest target, officials said, was a military research facility outside the Syrian capital. A top Syrian official told CNN in an exclusive interview that the attack was a "declaration of war" by Israel.
Syrian authorities vowed to retaliate against Israel but did not specify what action they would take.
The Israeli military would not confirm or deny the Syrian claim that Israel fired rockets that hit the Jamraya research center in the Damascus suburbs.
"We do not comment on these reports at all," an Israeli military representative said.
United Nations Secretary-General Ban Ki-moon expressed "grave concern" over the reports of Israeli airstrikes in Syria Sunday but stressed that the U.N. is not "in a position to independently verify what has occurred," his spokesman said.
Sunday's explosions mark the third time Israel has been accused of striking inside Syria this year.
The blasts rocked a large military area in the suburbs of Syria's capital, prompting terrified residents nearby to run for cover.
"Everything kept exploding over and over again," said Anna Deeb, whose family lives just over a mile away. "We could hear gunshots, we could hear people screaming. … We didn't know what to do, and there was a problem with us breathing because the smoke was too much."
Syrian state-run TV claimed that the Israeli rocket attack on the research center aided rebels, who have been battling government forces in the region. And the government's Syrian Arab News Agency said mortar shells "fired by terrorists" damaged residential neighborhoods nearby. But state media reports did not provide details about what type of research occurs in the facility, or how much damage occurred there after Sunday's attack.
Even with details about the explosion unclear, tensions ran high in the volatile region Sunday amid word of the reported attack, which was condemned by some officials across the Middle East.
In an exclusive interview with CNN, Syrian Deputy Foreign Minister Faisal al Mekdad said the attack represented an alliance between Islamic terrorists and Israel.
"When they attack, this is a declaration of war. This is not something that is (new)," al Mekdad said. "We dealt with this on several occasions, and we retaliated the way we wanted, and the retaliation was always painful to Israel, and they will suffer again."
After an emergency meeting of Syria's Cabinet on Sunday, Syrian Information Minister Omran al-Zoubi said on state television that the attack "opens the door wide open for all possibilities" but did not specify what those possibilities would be.
Arab League Secretary-General Nabil Elaraby condemned what he called Israeli strikes on Syrian territories and called for the United Nations Security Council to "move immediately in order to stop and prevent Israeli attacks on Syria." Foreign ministers in Egypt and Iran also condemned the reported Israeli attack.
Ban's spokesman said the U.N. secretary-general "calls on all sides to exercise maximum calm and restraint, and to act with a sense of responsibility to prevent an escalation of what is already a devastating and highly dangerous conflict."
Amid the heightened tensions, Israel appeared to be stepping up defense efforts.
An Israeli Army official told CNN that two rocket interception batteries have been deployed to northern Israel.
And the Israeli Airport Authority said Sunday that it had closed northern airspace over the country to civil aviation flights.
Attack comes days after reports of another Israeli airstrike
Sunday's reported attack comes days after U.S. officials told CNN that Israel had conducted an airstrike against Syria.
Two U.S. officials told CNN on Friday that Israel apparently launched an airstrike into Syria on Thursday or Friday.
The Israeli military did not comment on the U.S. claim. But Israel has long said it would target any transfer of weapons to Hezbollah or other terrorist groups as well as any effort to smuggle Syrian weapons into Lebanon that could threaten Israel.
"We are watching everything when it comes to the movement of these types of weapons. We have the means to do that," a senior Israeli defense official told CNN's Sara Sidner on Sunday. The official is not authorized to speak to the media.
Shaul Mofaz, a lawmaker in Israel's Knesset, told Israeli Army Radio on Sunday that Israel isn't meddling with Syria's civil war. But Israel must protect itself from Lebanese militants, he said.
"For Israel, it is very important that the front group for Iran, which is in Lebanon, needs to be stopped," Mofaz said.
"Everything that goes into the hands of Hezbollah is not directly related to the rebels. Israel never interfered in the past or today in their actions. Nevertheless, I need to say that Hezbollah is deeply involved up to its neck in what is happening in Syria. Hezbollah helps the Iranians navigate against the rebels."
Hezbollah did not immediately comment after Sunday's claims.
Lebanon's National News Agency reported that Lebanese President Michel Suleiman condemned what he called "Israel's onslaught against Syria." Israel used Lebanese airspace to strike Syria, he said.
Syria: Israel has targeted the defense facility before
In January, Syrian authorities said Israeli warplanes killed two workers and injured five others when they struck the same research facility that officials said was targeted on Sunday.
A U.S. official told CNN at the time that the Syrian claims were false. The official said Israeli fighter jets targeted a Syrian government convoy carrying surface-to-air missiles bound for Hezbollah. But Syria denied there were such shipments.
On Sunday, al Mekdad said details were unclear about what he described as the latest Israeli strike on Syria.
"Until now, the details are not clear on what happened. Did they fire missiles? … It is not clear for me, because I don't know how it happened, and of course it is worrying, but Israel will suffer the same," the Syrian deputy foreign minister told CNN. "When their agents in Syria were defeated, they are trying to influence from the outside. This is exactly what happened. This is direct Israeli support for al Qaeda … and the other forces fighting against Syria, to undermine Syria and to weaken Syria."
But an opposition group also condemned what it described as Israeli attacks on the research facility, arguing that the violence shows the weakness of President Bashar al-Assad's government.
"It is clear that the regime, which claims to be an opposing force, is instead weakening Syria in the face of an enemy," the opposition Syrian National Coalition said in a statement.
The opposition umbrella group said it was suspicious of the attack's timing.
"These strikes have given the regime the necessary time to draw attention away from its crimes and massacres on the Syrian coast," the coalition said. "It is not unlikely that as a result of these attacks, and world distraction, more crimes will be committed."
Sectarian violence continues
The latest report of rocket attacks comes as sectarian violence erupted in northwestern Syria. Three consecutive days of killing by mostly Alawite forces have left hundreds of predominantly Sunni residents dead, opposition groups said Saturday.
State media have said their forces were seeking only to clear the area of "terrorists," the term they have routinely used when referring to rebel forces.
But the U.S. State Department said it was "appalled by horrific reports that more than 100 people were killed May 2" in Beyda, a suburb of Baniyas.
Several opposition groups said largely Alawite government forces used tanks, battleships and missile launchers to target largely Sunni neighborhoods in and around the coastal city of Baniyas.
Government forces killed at least 200 people on Friday and Saturday in Baniyas and its suburbs, the opposition Local Coordination Committees said Saturday.
But reliable information has been difficult to obtain because government forces controlled access to the village, the LCC said.
A graphic video posted by activists who said it was shot in the Ras al-Nabaa neighborhood showed people, including an infant, lying lifeless on the ground. Many bore what appeared to be bullet wounds, and some appeared burned.
CNN has not been able to confirm the video's authenticity, as access to Syrian war zones has been severely limited by the government.
CNN