Israel Targeted Iranian Missiles in Syria Attack, report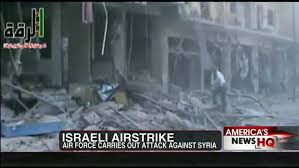 BEIRUT, Lebanon — A series of powerful explosions rocked the outskirts of Damascus early Sunday morning, which Syrian state television said was the result of Israeli missile attacks on a Syrian military installation.
If true, it would be the second Israeli airstrike in Syria in two days and the third this year.
The airstrike that Israeli warplanes carried out in Syria overnight on Thursday was directed at a shipment of advanced surface-to-surface missiles from Iran that Israel believed was intended for Hezbollah, American officials said Saturday. That strike was aimed at disrupting the arms pipeline that runs from Syria to Hezbollah, the militant Lebanese organization, and it highlighted the mounting stakes for Hezbollah and Israel as Syria becomes more chaotic.
Iran and Hezbollah have both backed President Bashar al-Assad in the Syrian civil war, now in its third year. But as fighting in Syria escalates, they also have a powerful interest in expediting the delivery of advanced weapons to Hezbollah in case Mr. Assad loses his grip on power and Syria ceases to be an effective channel for funneling weapons from Iran.
The missiles that were the target of the Israeli raid had been shipped from Iran and were being stored in a warehouse at Damascus International Airport when they were struck, according to an American official.
Iran has sought to use the threat of a Hezbollah missile attack against Israeli territory as a means of building up its ally and deterring Israel from conducting airstrikes on Iranian nuclear installations that Israeli and American officials believe are part of an Iranian nuclear weaponsprogram.
In Lebanon, some analysts said they believed that a strong Hezbollah could also emerge as a powerful ally for Mr. Assad if he is forced to abandon Damascus, the Syrian capital, and take refuge in a rump Iranian-backed state on the Syrian coast, a region that abuts the Hezbollah-controlled northern Bekaa Valley.
"The relationship between Hezbollah and the Assad regime is stronger now," said Talal Atrissi, a professor at Lebanese University in Beirut who has good relations with Hezbollah. If Mr. Assad falls, Hezbollah knows the axis of Syria, Hezbollah and Iran will be greatly weakened, he said.
Israel, for its part, has repeatedly cautioned that it will not allow Hezbollah to receive "game changing" weapons that could threaten the Israeli heartland even if a new Syrian government takes power.
As the Obama administration considers how to dissuade Mr. Assad from ordering a chemical weapons attack — the use of such weapons, the White House has said, would cross a "red line" — Israel, by striking the warehouse, is clearly showing that it is prepared to stand behind the red lines it has set.
"The Israelis are saying, 'O.K., whichever way the civil war is going, we are going to keep our red lines, which are different from Obama's,' " said Ehud Yaari, an Israel-based fellow of the Washington Institute for Near East Policy.
On Friday, SANA, the official Syrian news agency, reported an attack on the Damascus airport by Syrian rebels firing rockets at an aircraft and fuel dump — an account that American officials say may have been intended to obscure the fact that the target was a warehouse full of missiles.
An American official, who asked not to be identified because he was discussing intelligence reports, said the targeted shipment consisted of Iranian-made Fateh-110s — a mobile, accurate, solid-fueled missile that has the range to strike Tel Aviv and much of Israel from southern Lebanon, and that represents a considerable improvement over the liquid-fueled Scud missile. Two prominent Israeli defense analysts said the shipment included Scud Ds, a missile that Syrians have developed from Russian weapons with a range of up to 422 miles — long enough to reach Eilat, in southernmost Israel, from Lebanon.
Syrian forces loyal to Mr. Assad have used Fateh-110 missiles against the Syrian opposition. Some American officials are unsure whether the new shipment was intended for use by Hezbollah or by the Assad government, which is believed to be running low on missiles in its bloody civil war. But one American official said the warehouse that was struck in the Israeli attack overnight Thursday was believed to be under the control of operatives from Hezbollah and Iran's paramilitary Quds Force.
Hezbollah is now believed to have more missiles and fighters than it had before its 2006 battle with Israel, when Hezbollah missiles forced a third of Israel's population into shelters and hit as far south as Haifa. A Pentagon official said in 2010 that Hezbollah's arsenal was believed to include a small number of Fateh-110s, and additional shipments would add to Hezbollah's striking power.
In carrying out the raid overnight Thursday, Israeli warplanes fired air-to-ground weapons, apparently staying clear of Syrian airspace and operating in the skies over neighboring Lebanon.
A spokesman for the Israeli Embassy in Washington declined to acknowledge the attack, saying only in a statement, "Israel is determined to prevent the transfer of chemical weapons or other game-changing weaponry by the Syrian regime to terrorists, especially to Hezbollah in Lebanon."
In late January, Israel carried out a similar airstrike in Syria, which it also refused to publicly confirm, that used similar tactics, including a route over Lebanon, according to a former senior American official. The January attack was against a convoy carrying SA-17 antiaircraft weapons, which were supplied by Russia. The transfer of those weapons to Hezbollah would jeopardize the Israeli Air Force's ability to operate over Lebanon.
On Sunday, the Syrian government said that the Israelis had launched a missile attack against the military complex at Jamraya just outside Damascus overnight.
Large blasts sent towering plumes of flame and smoke into the night sky above Qasioun Mountain, which towers over downtown Damascus, according to residents and videosposted by opposition activists. The videos showed multiple explosions over a period of several minutes, suggesting that more than one target may have been hit.
The mountain is home to an array of Syrian military facilities, including military research centers, and is the source of much of the government shelling of rebel positions in the suburbs. Residents and activists said the explosions struck the mountain headquarters of the army's Fourth Division, the elite and feared unit run by the president's brother Maher, as well as al-Hamah, where the command of the Republican Guard, one of the government's elite forces, is located.
Ikhbariya television, a state-owned channel, asserted that Israeli had carried out the strikes. "The new Israeli attack is an attempt to raise the morale of the terrorist groups which have been tottering after facing strikes by our noble army," the station said.The government has long said that the uprising against it was fueled by foreign-backed "terrorists" and served Israeli and American interests.
Israeli officials had no comment on the explosions. Nor did American officials, who signaled that the United States did not carry out the attack.
"They are definitely going after military facilities on or around Qasioun," said Andrew J. Tabler, an expert on Syria as the Washington Institute for Near East Policy. "There are a lot of research and military facilities there that are tied into the command and control structure of the regime."
"It is unprecedented and something all of Damascus can see," he added, stressing that it would likely have an important political impact in Syria.
The Jamraya complex, the Syrian Scientific Studies and Research Center, is Syria's main research center for work on biological and chemical weapons, American officials have said, raising questions about whether the motivation for the attack went beyond stopping the flow of arms to Hezbollah. The Israeli raid in January was in the same area and the complex suffered moderate damage in that attack.
Israel's official silence reveals the broader dilemma it faces in how to handle Syria's upheaval. After 40 years of quiet on its northeastern border, Israel is now deeply worriedabout violence spilling over into its territory and about a post-Assad Syria being a vast, ungoverned area controlled by Islamist or jihadist groups, with no central authority to control militant activity.
But leaders in Jerusalem believe that they have few options beyond the targeted airstrikes, seeing greater military intervention as likely to backfire by uniting anti-Israel forces.
President Obama, who is traveling in Central America, said Israel was entitled to defend itself from its enemies.
"The Israelis, justifiably, have to guard against the transfer of advanced weaponry to terrorist organizations like Hezbollah," he told the Spanish-language TV station Telemundo.
Few experts expect the Israeli airstrike to put an end to Iran's attempts to ship arms to Syria and its Hezbollah ally. Jonathan Spyer, an expert on Syria and Hezbollah at the Interdisciplinary Center in Herzliya, Israel, predicted more attempts to transfer weapons — and Israeli efforts to stop them.
"Clearly Hezbollah is hoping to benefit from its engagement in Syria, and clearly Israel is committed to preventing that," said Mr. Spyer, who noted that Israel was taking a "calculated risk" that its limited intervention would provoke only a limited response, if any.
Certainly, nothing in recent comments by Hezbollah's leader, Hassan Nasrallah, suggested that his organization would pull back from its support of Mr. Assad or its alliance with Iran.
Days before the Israeli strike, Mr. Nasrallah issued some of his strongest statements yet of support for Mr. Assad, edging closer to confirming what the Obama administration has already reported: that Hezbollah is backing him militarily, not merely tolerating border crossings by some of its members to defend Lebanese citizens in Syria, as Hezbollah has officially maintained.
Mr. Nasrallah said Hezbollah — using the word "we" — would not allow Syria to fall to an armed assault that he said was backed by the United States and Israel, and added that the party was defending civilians of all sects in Qusayr, a city in Homs Province near the Lebanese border, where rebels say Hezbollah has led recent battles against them.
NY Times