Future to skip parliament session if Orthodox law only option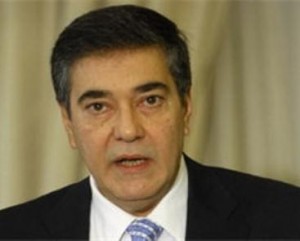 MP Ghazi Youssef who represents the Future Movement in the parliament said on Saturday that his party will not participate in the parliament's session if the Orthodox proposal will be the only proposed electoral law on the table.
"The [Future] bloc will not participate in the parliament's plenary session schedule for May 15 if the Orthodox proposal is the only option on the table," National News Agency quoted Youssef as saying on Saturday.
The opposition official also said that it is unlikely that the parliament would agree on a new electoral law for the upcoming parliamentary elections.
Instead, he said that he expects the elections will be held under the auspices of an amended version of the current 1960 law.
Speaker Nabih Berri has called for speeding up the agreement on a new electoral law before the plenary session scheduled for May 15 and has vowed to keep the session open until a new law has been implemented.
The March 8 coalition has repeatedly called for the adoption of the Orthodox law, which calls for proportional voting along sectarian lines, as an alternative to the 1960 electoral law currently on the books.
However, the Orthodox law was met with severe criticism from the Future Movement, the Progressive Socialist Party , independent Christian MPs and president Michel Suleiman.
According to media reports Berri is promoting a   hybrid electoral law  under which 55 to 60 percent of candidates are elected via the winner-takes-all system and the remaining 40 to 45 percent of lawmakers would be elected under the proportional representation system.