Suleiman: Veto power means no Lebanon cabinet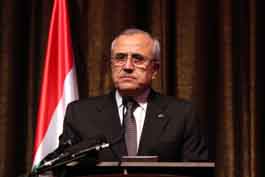 President Michel Suleiman rejected on Wednesday granting veto power to any party in the upcoming cabinet and expressed reservations over the rejection by some parties of adopting rotational portfolios in the formation of cabinet.
"The blocking third ( veto power) hinders the formation of the cabinet, which means there would be no cabinet," Suleiman said in remarks published Wednesday by An-Nahar newspaper, adding "If the government included a blocking third it might reject the formation of a special committee in charge of overseeing the parliamentary elections and thus postpone further the polls."
The president added that the elections will be held under any law, "whether under a new law that the political factions would agree on or under the 1960 electoral law."
He warned that not holding the elections is dangerous.
"There would be a danger to the economy and to the Lebanese currency if the elections are not to be held," he stressed.
Suleiman also stressed that he would appeal against any law that calls for extending the term of the current parliament, "unless it was annexed with a clause that defines the electoral law under which the elections will be held and the date of the elections."
The cabinet of caretaker Prime Minister Najib Mikati collapsed in March after a cabinet session in which he failed to pass the formation of the committee to oversee the elections.
The president expressed optimism over Prime Minister-designate Tammam Salam's formation process.
Salam has previously announced that he wants to form a 24-member government with rotational portfolios. He has also rejected having any members in the cabinet who would be running in the upcoming parliamentary elections.
Speaker Nabih Berri has set to the political blocs May 15 as the deadline for reaching an agreement over a new electoral law before calling parliament to session to vote on the Orthodox Gathering proposal that was approved by the joint parliamentary committees.
Suleiman, Mikati, Progressive Socialist Party MP Walid Jumblat's National Struggle Front, the Future Movement, and independent March 14 MPs have all rejected the Orthodox Gathering law, saying that it deepens sectarian divisions in Lebanon.
The elections are scheduled for June 16.
Mikati
In remarks published by al-Hayat newspaper on Wednesday, Mikati stressed the importance of the parliamentary elections for Lebanon as a "symbol of democracy in the region,"
He told al-Hayat: "Despite their importance, it would be impossible to hold them as scheduled on June 16 … but I do not think the delay will be too long."
He explained that technical difficulties will undoubtedly delay the polls, as well as the failure to reach an agreement over a new electoral law.
"It would be impossible to hold them in less than two months," he remarked.