Nasrallah to deliver a speech from Tehran, report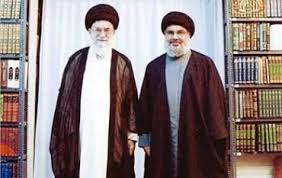 Hezbollah chief Sayyed Hassan Nasrallah will deliver a televised speech on Tuesday at 8:30 p.m. according to al Manar TV.
Last week reports from Iran indicated that Nasrallah was planning to deliver a televised speech on May 9 to tackle allegations about his party's role in the Syrian conflict and Lebanon's political crisis.
Hezbollah-affiliated news website Al-Ahd posted last week a picture dated April 15 showing Nasrallah standing next to Iran Supreme Leader Sayyed Ali Khamenei, but did not disclose any further details.
Nasrallah, whose movements have been extremely restricted since the 2006 war with Israel, rarely makes public appearances. Most of his speeches and appearances in the aftermath of the 34-day war were transmitted via video link from an unknown location.
The last time Nasrallah made a public was in 2010 when he held talks with Syrian President Bashar Assad and Iranian President Mahmoud Ahmadinejad in Damascus.
His speech comes a day after the arrival of 30 bodies of Hezbollah fighters from Syria for burial in Lebanon, according to a report by Al Arabiya .
The report added that Al-Quds Brigade commander, who is known by his nickname, Abu Ajeeb, was also killed in Syria in battles against rebels.
Former Hezbollah chief Subhi al-Tufaili told Al Arabiya in an interview earlier this week that at least 138 Hezbollah fighters have been killed in the Syria fighting. This is substantially higher than the number of Hezbollah fighters reported to have been killed in the 2006 war with Israel
Tufaili added that Hezbollah, which is backed by Iran and the Syrian regime, was told to fight with the Assad forces in direct orders from Tehran.
In Tehran
Hezbollah  chief arrived yesterday in Tehran for participating in the World Summit of Ulama and Islamic awakening, according to the Iranian Ahlul Bayt News Agency (ABNA).
The two day summit started on Monday according to the ABNA report.
If ABNA report is correct ( this has been verified by Ya Libnan) , Nasrallah will be delivering the speech from Teheran , in his second visit to the Iranian capital in 2 weeks .