Lebanese officials gifted Hermes to Hillary Clinton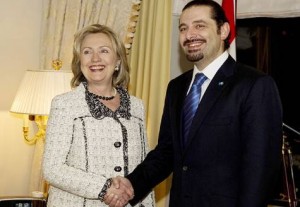 If the U.S. Federal Registry proved one thing when releasing a list of gifts that federal employees received from foreign administrations in 2011, it's that high-ranking politicians command an impressive amount of swag—even if they don't actually get to keep it.
According to a federal registry document issued by the State Department on Friday, President Obama and his family got thousands of dollars worth of gifts from foreign dignitaries. The document, which details all gifts received by United States officials in 2011, is clear to point out that the Obamas didn't keep the swag for themselves because it "would cause embarrassment to donor and U.S. Government."
A large majority of the Obamas's gifts, unsurprisingly, came from former French president Nicolas Sarkozy. By all accounts, the notoriously 'blingy' Sarkozy was the 2011's best political gift-giver—a skill that often involved Hermès. Among the luxury leather goods that the Obamas received from the Sarkozys are a black golf accessory bag (estimated at $7,750), an orange cotton canvas travel case, a beach towel "printed with umbrellas and towels beach scene," and a black golf bag. (Philippe Augier, the mayor of French seaside town Deauville, incidentally, gifted Obama Hermès's own Deauville scarf.)
But Sarkozy's shower of presents didn't stop there. Sarko also gifted the Obamas a "Neo Igor" business bag by Louis Vuitton (estimated at $2,310), a white Lacoste polo shirt, a Christian Dior leather clutch, and — wait for it — "His and hers white, belted Dior bathrobes with 'Dior' embroidered on the breast pocket" for the President and the First Lady.
French designer swag aside, Sarkozy also gave Obama something to remind him of home: a plexiglas Tootsie Roll sculpture with an "American flag patterned wrapper." According to the State Department document, when added up, Sarko's gifts to the Obamas amounts to more than $41,000.
But Sarkozy wasn't the only one with a strong – if not slightly obsessive — sense of brand loyalty. Judging from the list, it seems like German chancellor Angela Merkel is a bonafide Adidas addict. She sent Malia and Sasha a stockpile of goods from the German athletic brand including two pairs of swimming goggles, two mini soccer balls, two t-shirts, a windbreaker, two notebooks, a hooded jacket, and two gym bags — clocking in at around $557. Sadly, all of it's been shipped straight off to the National Archives, along with the silver 'Links Sweetie Bracelets' David Cameron and wife Samantha sent over, one with an 'S' charm and the other an 'M.'
Obama's cabinet members were in on the action too. Hillary Clinton received no less than three Hermès scarves, each from French, Korean, and Lebanese officials. (The French Republic also gifted her a $2,400 Dior bag.)
But most bizarre is the list's documentation of weird perfume exchanges. Libyan ambassador Ali Aujali gave Chief of Protocol Penavic Marshall a 3.4-ounce bottle of Marc Jacobs's 'Lola' perfume — a scent that comes with rubber flower topper that reminded some of a vagina. We'll try not to look into the sub-context of Afghani government's gift to Bernard E. Mater, a vice air force commander in Afghanistan (they sent over a bottle of Calvin Klein's 'Intense Euphoria' fragrance). But best of all? The Qatari's gift to Air force lieutenant Gilmary M. Hostage. Among the $10,287.13 stockpile of gifts lay Juicy Couture's discontinued men's fragrance, Dirty English.
The Daily Beast