Drone over Israel is a Hezbollah diversion tactic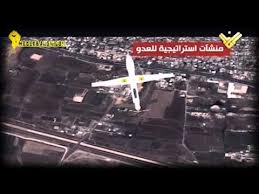 Amid reports of a Hezbollah drone shot down over Israeli airspace, some believe that the party's leadership was trying to divert growing criticism from its base, writes an Al-Monitor correspondent in Beirut.
Despite the official denial from Hezbollah, let us assume, for the sake of argument, that the drone shot down over Israel indeed belongs to the Party of God [Hezbollah].
This would not be the first time Hezbollah has sent an unmanned drone into Israel. There are specific reasons calculated by Hezbollah and Iran every time [a drone is sent]. Three months ago, Israeli aircraft flew a greater distance than that which separates Israel from Iran, and bombed a target in Sudan.
On this long distance flight, the Israeli aircraft refueled mid-air, and were able to avoid detection by the radar networks of all countries over which they flew on their way to their target. According to sources close to the Iranian Revolutionary Guards Corps (IRGC), the IRGC believed, back then, that Israel included a message to Iran in its raid. This message was that Israeli aircrafts can reach and destroy Iran's nuclear reactors. According to these sources, it seems that Ayatollah Khamenei, the Supreme Leader of the Islamic Revolution — in cooperation with the IRGC which shares the same hardline stance — decided to respond to Israel with a stronger message.
Immediately after that, an Iranian-made Ayoub drone took off from Hezbollah's launching pad from Lebanon into Israel. The drone flew relatively close to the Israeli Dimona nuclear reactor, before Israeli interceptors shot it down. At the time, Secretary-General of Hezbollah Hassan Nasrallah claimed responsibility for the operation while speaking on the [Hezbollah-affiliated] satellite TV station Al-Manar. In his speech, he intended to include this event in his message saying that when the party threatens Israel with military surprises — if Israel were to launch a war against Lebanon — it means what it says. This is proved by the Ayoub drone, which penetrated the Israeli defenses and reached sensitive targets.
On analyzing Nasrallah's speech back then, it was clear that this message was not only designed to warn Israel against attacking Hezbollah, but basically against attacking Iran.
Both Iran and Hezbollah need to send a message today on the ability of their military to deter. Hezbollah's need to make this step is reflected in its desire to remove the embarrassment that resulted from being accused — at the internal, Arab and international levels, and even among its proper base — of abandoning the main objective of resisting Israel and liberating the Lebanese territory occupied by Israel, and of being involved in a sectarian war against the Sunnis in Syria to defend the Alawite Syrian regime.
If the repercussions of these accusations are amplified, they would be deadly, because they will cause the party to lose its legitimacy as a national resistance. Moreover, they will portray the party as a sectarian militia and a force that takes advantage of the slogan of the resistance, in order to implement plans backed by both Tehran and Damascus.
This time, Hezbollah is banking on sending a reconnaissance aircraft to penetrate Israeli airspace to attract attention to itself again, as a resistance movement that did not lose the compass toward its main objective. This is also to say that its involvement in the clashes in Syria was unexpected, and was required to defend the Lebanese Shiite villages located in the al-Qusayr region in Syria.
Analysts familiar with Hezbollah affairs say that Hezbollah meticulously timed when it would send the drone for another, intrinsic reason. This is that Nasrallah is planning a [TV] appearance soon (within days). During the appearance, he will be answering the questions that are growing among his base; an Islamic public dissatisfied with Hezbollah for slipping into an internal war for the sake of the regime against another Muslim group and a people demanding freedom. In this way, Hezbollah has disregarded all the announced principles of being committed to Islamic unity, to preventing sectarian strife, and pointing the weapon exclusively at the Israeli enemy.
According to these analysts, the drone issue will give Nasrallah a trump card in his appearance that enables his response to be stronger than the questions posed by those who accuse him of having lost sight of the main objective of resisting Israel, for which Hezbollah's resistance was established.