Kidnapped Syrian Bishops still missing, Pope Francis calls for action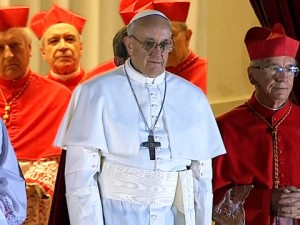 Two Syrian bishops kidnapped by gunmen on Monday are still missing, church sources in Damascus and Aleppo said on Wednesday, contradicting an earlier report that the men had been freed.
A source at the Syriac Orthodox Archdiocese of Aleppo said the bishops had not been released and he was unaware of any contact with their abductors.
At the Greek Orthodox Patriarchate in Damascus, a source also said there was no indication they had been freed.
Greek Orthodox archbishop Paul Yazigi and Syriac Orthodox archbishop Yohanna Ibrahim were seized near the northern commercial and industrial hub of Aleppo, which is contested by rebels and forces loyal to President Bashar al-Assad.
On Wednesday, Pope Francis called for the release of the bishops, said there were "contradictory reports" about the fate of the bishops and asked that "they be returned quickly to their communities," in front of an audience of around 100,000 at the Vatican.
Authorities blamed the abduction on a "terrorist group," the label they usually give to anti-Assad rebels, but opposition fighters in the province denied they had kidnapped the two and said they were working for their release and trying to find out who had taken them.
The bishops were the most senior church figures caught up in the fight between Assad's forces and rebels trying to end four decades of family rule by Assad and his late father.
The Syrian Observatory for Human Rights said Syria rebels were battling regime troops Wednesday inside the Minnigh military airport in the north of the country for the first time,
"The rebels, who have laid siege to the airport for months now, entered it for the first time around dawn," Observatory director Rami Abdel Rahman said.
The rebels on Tuesday took a key military position outside the airport, in Aleppo province, which allowed them to launch a raid on the facility.
Syria's main rebel Free Syrian Army on Wednesday rejected calls for jihad (holy war) by radical Sunni sheikhs from neighboring Lebanon.
"Our official position as the Supreme Military Command of the Free Syrian Army … is that we thank them but we reject any calls for jihad in Syria," FSA political and media coordinator Louay Muqdad said.
"We reject any presence of foreign fighters, regardless of where they are from. We have said that what we are missing in Syria is weapons, not men," he added.
Damascus will not use chemical weapons against its own citizens, or in the event of war with its neighbor Israel, Syria's Information Minister was quoted as saying on Wednesday. This came one day after a senior Israeli intelligence officer said Syrian government forces had used chemical weapons against rebels.
Reuters