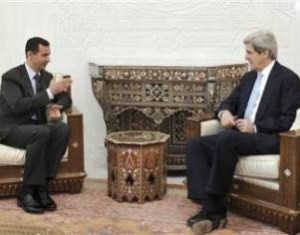 US Secretary of State John Kerry said on Tuesday that Nato needed to consider its role in the Syrian crisis, including how practically prepared it was to respond to a potential chemical weapons threat.
Kerry told a meeting of Nato foreign ministers in Brussels that the planning the alliance had already done was appropriate, and added: "We should also carefully and collectively consider how Nato is prepared to respond to protect its members from a Syrian threat, including any potential chemical weapons threat."
Nato, a US-led military alliance of 28 countries, has said repeatedly it has no intention of intervening militarily in the Syrian civil war.
It has, though, sent Patriot missile batteries to neighbouring Turkey to help defend the Nato member against possible missile attack from Syria.
Claims of chemical weapons
Earlier on Tuesday, the Israeli military's top intelligence analyst said Syrian government forces had used chemical weapons – probably nerve gas – in their fight against rebels trying to force out President Bashar Assad.
Brigadier-General Itai Brun made the comments at a Tel Aviv security conference a day after US Defence Secretary Chuck Hagel said on a visit to Israel, that US intelligence agencies were still assessing whether such weapons had been employed.
US President Barack Obama has called the use of chemical weapons a "red line" for the US that would trigger unspecified US action.
Nato Secretary-General Anders Fogh Rasmussen said Nato was "extremely concerned about the use of ballistic missiles in Syria and the possible use of chemical weapons."
Rasmussen also told a news conference Nato worried about the risk of the conflict spilling over Syria's borders, adding: "I can assure you that we stand ready to defend, protect our allies, in this case Turkey, as a neighbour of Syria. We have all plans ready to ensure effective defence and protection of Turkey.
"The situation in Syria has dramatically deteriorated," Rasmussen said.
"This continues to pose a threat to regional stability."
Reuters