Hundreds of Sunni youth in Lebanon signed up for Jihad against Syria and Hezbollah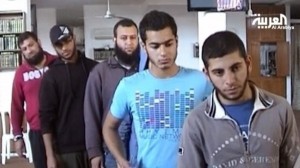 Lebanese youth from the city of Saida, south of Beirut, began Wednesday signing up for armed Jihad in Syria, responding to a call yesterday by firebrand Sunni cleric Ahmad Assir.
Individuals in charge of enlisting Jihadists at Bilal Bin Rabah mosque told Al Arabiya that "hundreds" have signed up so far and that the number is expected to reach thousands.
This came a day after Sheikh Assir, who is the Mosque's Imam, lashed out at Hezbollah for helping President Bashar al-Assad's forces fight the predominately Sunni opposition in Syria.
Sheikh Assir announced Tuesday the formation of "Free Resistance Brigades" to go fight Hezbollah's army in Syria.
In an interview with Al Arabiya Sheikh Assir said his call came in response to "Hezbollah's continued role in the persecution of Sunni Muslims in Syria."
He said it was a "a religious duty" for his Sunni followers to join the fight against Hezbollah and the Syrian regime.
Assir slammed the Lebanese government for not being able to prevent Hezbollah from interfering in Syria.
The Shiite gruella group admits to fighting in Syria, but insists it is only acting to protect Lebanese citizens in Syrian border villages.
Tripoli-based Sunni Sheikh Salem al-Rafei also called for a "general mobilization" for holy war against Hezbollah in Syria. In an interview with Al Arabiya, he dismissed Hezbollah's justifications, saying, "We also have our Lebanese [Sunni] people in Syria to defend."
He called for the formation of "secret armed groups consisting of five members."
"We will be sending the first batch of armed men to fight alongside the Syrian armed militias in al-Qseir," al-Rafei said.
But Syria's main rebel Free Syrian Army has rejected the calls for jihad, saying what it needs is support with weapons not with foreign fighters.
"Our official position as the Supreme Military Command of the Free Syrian Army… is that we thank them but we reject any calls for jihad in Syria," FSA political and media coordinator Louay Muqdad said.
"We reject any presence of foreign fighters, regardless of where they are from. We have said that what we are missing in Syria is weapons, not men," he added.
Al Arabiya